people i wish i had met at world fantasy, and people i'm very glad i did (wfc 2013 part 5)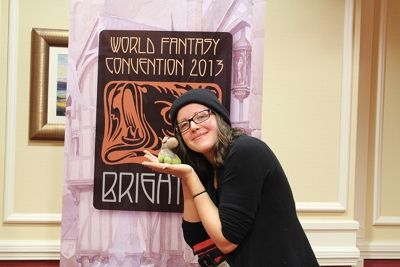 I noticed her on the first day because of her t-shirt.  I didn't get a very good look at it, but in passing thought I saw the word feminism.  Was there something about Marx on there as well?  My people?  Likely.  But panels happened, readings happened, and I didn't get the chance to say hello.  At a party several nights later I found myself chatting with someone I had met in line at the Susan Cooper signing.  The woman with the t-shirt was sitting nearby.  That's Foz Meadows, she told me, pointing in her direction.  Who's that? I asked. Just the very intelligent and articulate writer of Shattersnipe (and a fiction writer, says the internet).  Just someone whose blog I am now totally enamored with, now that I have been led to it by the hand (d'oh).  Just someone who is writing about feminism and speculative fiction articulately, wonderfully, engagingly.  Just someone I really, really, really wish I had gotten a chance to meet and chat with during World Fantasy.  I hope there's a next time.
Cheryl Morgan came to my attention on the "We're All Bloggers Now" panel, which was itself a ridiculous mess that very blatantly exposed some of the flaws in the convention planners' system (or lack thereof) of assigning voices to panels.  But Cheryl's comments stood out, and yup, she has a wonderful blog called Cheryl's Mewsings.  She's also behind Wizard's Tower Press, who are doing their damnedest to put more voices of women, LGTB, and other marginalized groups into print.  And actually that's just the tip of her iceberg of amazing.  From what she's said on her blog, she'll be attending Nine Worlds and LonCon next August, and I really really hope I don't miss another chance to chat with her then.
Cheryl Morgan and Foz Meadows, thanks for doing what you do.
But wait!  I almost forgot.  Polenth Blake of Polenth's Quill was there as well.  I've been following her blog for a while now, but in the busy that led up to World Fantasy, I missed the posts that mentioned that she would be attending.  I wouldn't have minded telling the folks over at Pornokitsch how much I enjoy their writing either (don't let the name fool you, it's a damn fine book blog).  How many more bloggers that I follow did I miss?  We should have couped the blogger panel, damn it, and saved the sinking ship.  Remind me to try to organize an informal book bloggers meet-up at the next convention I attend.  Then maybe I won't have so many missed connections to lament.  Maybe.  It is inevitable that you are going to miss talking to hundreds of amazing people at a convention like this.  There just aren't enough hours in the day.
As for the people I did meet…
Rochita Loenen-Ruiz who writes at From the Beloved Country, Chie and Weng Read Books, and as a columnist over at Strange Horizons also caught my attention on the "We're All Bloggers Now" panel.  She had some interesting things to say about the internet providing a speaking platform for people on the margins and at one point said something along the lines of "I can't seem to stop writing about revolution."  (Correct me if I'm misquoting you there Rochita.)  I got the chance to chat with her during one of the publisher's parties, and subsequently went to her reading on Sunday morning.  The politics and themes in her writing are right up my alley, and I am glad that the most ridiculous of panels at least had the positive side effect of bringing her work to my attention.  Looking forward to seeing more of it in the future.
Then there was my constant convention companion, at first by accident, and then by choice.  We'd been to all the same panels on Friday, sitting several seats away from each other in the front row, both taking notes, both slighted by the traumatic experience that was the Terry Prachett reading (more on that in another post).  I saw her taking pictures with a little stuffed pig (as in the picture above) and guessed that she was also a blogger.  She was, and we bonded over our anger at the way the blogging panel had gone and our dislike of the behavior of one of the panelists.  With every subsequent panel—and it was no longer a question of whether we would run into each other, but when—we talked a little more, found a few more things we had in common, geeked out about a few more favorite authors and books.  It wasn't long before we were making plans to run into each other.  It was a grand old time and having the company of Sullivan McPig (who is the centerpiece of the book blog Pearls Cast Before a McPig and The Life and Travels of Sullivan McPig) for the weekend was the icing on the con-cake.
There were others of course: people from the newbies corner at the hotel bar whose names I didn't write down and therefore immediately forgot, two Scottish girls, authors, writers, bloggers galore.  If I was more organized I would have all of your names and internet info to share here.  But alas.  If any of you are reading this, please leave a comment with your calling card or find me on twitter @bookpunks.
Read part six of the WFC saga here.