oh crap, my roof is leaking
To my horror, removing a bowl from a shelf the other day revealed stains on the light colored wood. Water stains. Oh crap. A leaky roof is one of my worst building nightmares.
But! Panicky though this discovery made me, I am already fairly certain as to the cause. You see, I never entirely finished battening down the roof onto the siding, and this corner is particularly exposed to the elements. (I know, I know. All the builders out there are shaking their heads and asking why I didn't get this done last fall. I am asking myself the same thing.) Below is a shot of the same corner from outside. No doubt rain water has just been dripping out of the rain gutter and blowing right in.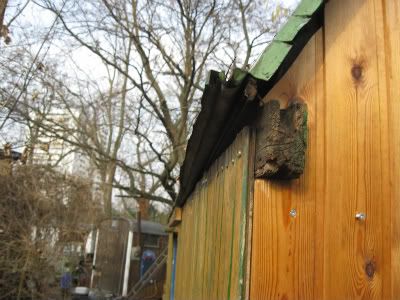 Looks like I have my first spring building project. Luckily I still have a bundle of wood from the time we dumpster dived at the building supply store, and it is probably just the right thickness for screwing onto the top of the siding and then screwing the metal roof onto. Or so I hope. Next up: coating the siding with another layer of fuck-off-rain-water and finishing the floor insulation.
How do all you people with houses manage it? It's all I can do to maintain my little ship, and as you can see, I barely keep up. This fact, above anything else, is what I imagine will keep me in a Wagen for years to come. There is a lot to love about this Wagen life: how much time I end up spending outside, how little I need to spend on heating and rent, how cozy and flexible the space is. But in the end what really seals the deal is that the scale of the building allows me to—more or less—handle all the maintenance myself. The thought of dealing with a house (and having to learn about things like septic systems, plumbing, and stone walls) is intimidating to say the least. Three cheers for the diy house folks!