no sticks, just carrots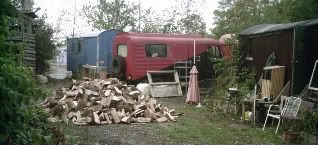 Fall is here. Because the wood for the wood stoves was delivered. Because I made the first soup of the season, and it had two pumpkins from my garden in it. Never mind that the leaves have started to fall, that the air is as crisp as their brown corpses beneath my feet.
Whenever The Red Planet is away, I become a dumpster diving machine. Bereft of nights cuddled together in bed, bereft of the temptation to entwine in a nest of blankets and pillows to watch children's television shows on dvd, my gaze turns to food, and my feet to the pedals, catapulting me into the night.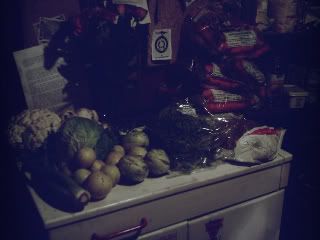 2 500g bags o' green beans
1 large cauliflower head
2 leeks
1 bunch pink roses
1 bunch celery
3 kohlrabi
9 lemons
1 savoy cabbage
1 cucumber
1 750g loaf sunflower seed bread
2 packages chives
1 package seedless red grapes
1 package mushrooms
5 2 KILO BAGS OF CARROTS
Please excuse the brevity of this blog. I've got to go make carrot juice.