no borders but whiskey in holland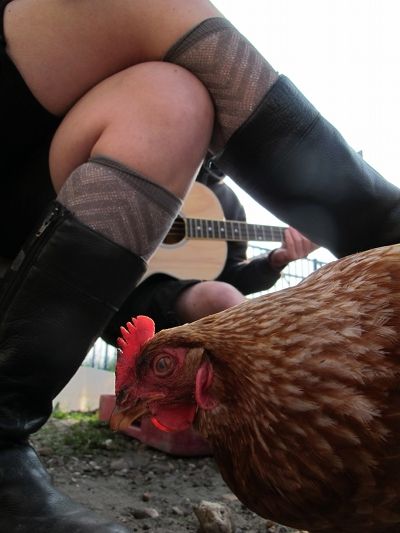 Nijmegen, the Hague, and Amsterdam. It was a lovely way to spend a long weekend. I never feel like going on actual vacations.  My bed, my porch, my yard—that is where the relaxing happens, and I don't need to pack a bag or move or spend money to enjoy them. Traveling is about making music, and it is a lot of fun, but at the end of every trip I am happy to find my own bed waiting to cradle me back into a state of normalcy.  Sleep is definitely not overrated.
If you have never heard the bands Blackbird Raum  or Gembrokers, then go!  Ignore the rest of this blog and listen to their music.  Blackbird Raum make ruckus folk punk (accordion, banjo, screamy harmonies) and Gembrokers sing lovely three-part harmonies that will kill you.  When both bands—who are touring together for a ridiculously long time right this second—arrived in Europe we played a show (if you're just tuning in, I sing in the Battenkill Ramblers) and had big breakfasts in our yard.  Then they went whistling off to Spain and France and co., and weeks later we met up with them again in Holland.
A word to diy bands touring Europe: Holland is fucking fantastic.  The food is good, the people are incredibly kind, and the radical spaces are inspiring and well-organized and awesome.  There are not enough adjectives for the diy music scene in Holland.  Every show we have ever played there has been really fun.  In two weekends we're going back to play Art Carnivale.  If you happen to be in the area, come on by and say hello.  I'll be celebrating my 31st birthday.
On Thursday night we played in a space called de Onderbroek, a concert venue with a beautiful cafe and a printing studio attached that has been around for almost as many years as I have.  When he found out that the message about my soy allergy hadn't gotten through (and I couldn't eat any of what had been prepared), the night's cook whipped up a plate of goodness and saved the day.  It's the little things.  Someone should give him a trophy.
Friday found us in my favorite Dutch city—the Hague.  We practiced in a tiny trailer park squat directly on the water, filmed a sweet little video, strolled on the beach, ate a lot of fries with peanut sauce, and played the funnest show we've played in years at the Pirate Bar, a squatted restaurant whose very existence makes the world a better place.  There another concerned cook had made me a special soy-free meal with hand-made seitan and potato salad with fresh eggs from the Pirate chickens.
We got to play with our dear friend Shireen on harmonies for the first time, and it was truly fucking glorious.  People cheered, denounced misogyny in loud voices, and sang along.  It started out a little lame (four guests, the assumption that we'd just play for an empty room, call it practice, and call it a day) and turned into a room full of really excited people watching some really excited musicians on stage.  Afterwards, I wore Pickles, sleeping, on my chest in our Manduca carrier and watched the last band at the back of the room feeling lucky and happy and tired.
Our trip ended in Amsterdam at the Occii's Anarcho Folk Fest.  Fifteen (or was is 16?  18?  20?) politcal folk bands from all over the fucking place played.  Now, we play a lot of punk shows, and that's fine, but getting to play shows with other folk musicians?  Inspiring.  My body had had enough by midnight, however, and I passed out next to Pickles on the air mattress we'd set up in a friend's art stuio and ended up missing the last band of the night (Lynched, who were apparently the most amazing thing ever) and a lot of goodbyes.  Two things of particular note happened: I realized that no one had attempted to serve us chili for the entire weekend (we sometimes have the problem that people think country music=chili and then people feed us beans and tomatoes for days on end, which is, well, you can imagine) and two of my family members got to see us play for the first time.  Fuck yeah.
touring with babies
Of course, Pickles was along for the entire ride.  She's 16 months old now, and she was a dream.  She didn't moan and scream in the car (well, only briefly, because her teeth hurt and the pain killers had melted in the car, a problem we solved with ice cream).  She wasn't too screamy for the babysitter (we always bring a friend along to watch her while we play).  She slept peacefully in the carrier after our shows so I could watch the other bands.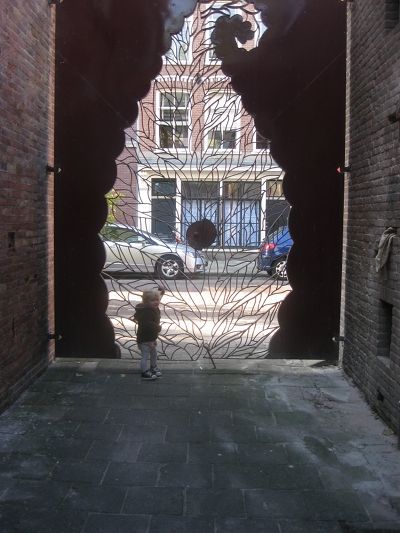 But I won't sugar coat it, it can be stressful to tour with a baby in tow.  It is fun, and I feel like sharing these experiences with her is the coolest thing ever.  But sometimes I just wanted to sit down and talk to my friends (or make new friends) and drink a fucking beer, but instead had to chase her around or hold her while she clung like the ground was covered in hot lava.  The Beard and I trade off, but sometimes even that isn't enough.  Not when she's woken you up at 5 am every morning no matter when you went to bed, and your brain feels like its been pureed.
We try to deal with the lack of sleep by doing shifts.  On the last morning, for example, I got up with Pickles at 5 and the Beard slept for another few hours.  Then he got up, and I went back to sleep.  In Amsterdam I had given him the green light to stay up all night, so I got up with her (and taking pictures in front of that gorgeous gate pictures above is one of the things we did), and when she fell back asleep two hours later, I collapsed back into the air mattress and fell asleep with her on top of me, nursing.  Ideally, though, we would bring a babysitter who could watch her during and after our show, as well as in the morning until we wake up.  Trouble is, I doubt we could afford that (how do you even calculate an hourly on that?), and so instead we bring our friends who come along for the ride and the beer and the music and the fun in exchange for taking her while we play.  I love the sound of how the Mates of State do it.
Are you going on any trips this summer?