next stop: the forest kindergarten, the gingerbread house, and the squatted tennis court
I started the week with photos from a squatted school in Cologne where we played during the last Black Diamond tour. And today the frieght rolls on with more photos of some of the inspiring places where we rested our heads and sang our songs this June…
After a watermelon-filled, sunny breakfast in Cologne, we piled back into the bus and headed to Leipzig where we spent the night at the "Forest Kindergarten" where we played music for and with the presiding kittens the following morning.
The concept of a forest Kindergarten is that the kids spend as much time as possible outside. Brilliant. As were the two Bauwägen that they had on site: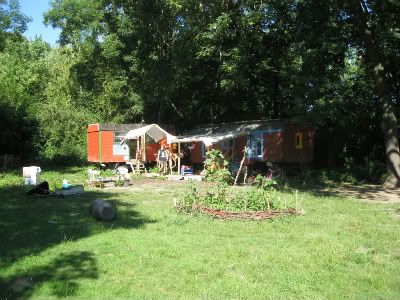 The following day found us in Berlin at a Wagenplatz so green and quiet you'd never know you were in the country's capital city. But, cough cough, I forget to take pictures of the place, so you'll just have to take my word for it. Did you know that there are about twenty-something Wagenplätze in Berlin? Fuck yeah.
On our way back West we spent a night at a campground very close to a town whose name translates into something like "Stupidville." Oh how sad we were that Stupidville wasn't quite on our way. Because we all really wanted to camp there and take hundreds of ridiculous photos. To this day we still wonder what the reisdents of Stupidville call themselves. Stupidians? Or just plain Stupid? The potential for horrific jokes is beautifully endless.
But alas! After a night's pause we rocketed into Amsterdam, Holland for two performances: an afternoon live on the radio (as the tour progressed, I got worse and worse at remembering to take photos) at the public library and an evening at the Occii, an charming once-squatted alternative venue that has just been restored to look like the gingerbread house it apparently was in a past life:
After the show two French fellows making a documentary about independent politically radical music interviewed me, so maybe, just maybe, you will someday be able to see what I look like at 2 am, covered in sweat, and cracked out on the sugar cubes I was downing in order to stay awake.
Last (of the gigs in Holland) but the farthest from least was the squatted tennis court I refered to in last week's post about pallet-built furniture. I've said it once and I'll say it again: it was the kind of place that when you visit, immediately spawns fantasties about staying forever. Imagine the Waganplätze that you could build on nine (roughly, I didn't count exactly) empty tennis courts!
But Wagenplatz culture never really took off in Holland the way it did in Germany, perhaps because of the ease of squatting actual houses (that is, until recently, when the government forced a squatting ban through that has been responsible for ending one beautiful house project after another since it went into effect). At the tennis court, there is just one Bauwagen (being stored there), a lived-in truck, a huge club house housing three people, and a whole lot of trees and birds you won't find inside the city it skirts. Absolute fucking heaven. If it were any closer, I would have moved in already.
In the photos you can see the clubhouse, the greenhouse (which is part of what used to be the clubhouse cafeteria), and the truck-inhabitants and pallet-furniture-builders (swirled into anonmynity) enjoying the fruits of their labor.