new year! new wagen!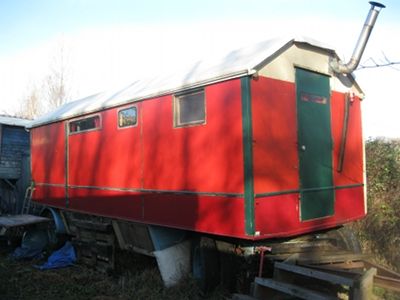 I've called wolf on it twice, but this time it is serious: we finally found a third Wagen. Hallelujah glory glory. That is it! Woooo!
Originally, we were going to buy a friend's Wagen. This one. Then we changed our minds. I can't even remember why. Then we were going to buy a larger one from another friend. Then we changed our minds again, with prospects on something potentially free and here.  That didn't work out either.  And then we found this.  It is close, it is roomy, and did I mention it is really close?  Hauling costs for these homes can get extravagant.
On the inside, it currently looks like this:
The folks who used to live inside lived there with two kids, which is what that little cage was for, I mean crib, haha. The ceiling isn't quite finished, and we're probably going to redo the walls, if not replace the styrofoam insulation with hemp, as well as put in better (double glass), bigger windows.  I had been looking for a longer Wagen, but this one makes up for it a bit in that it is extra wide (6 meters by 2.5 meters, ish).
The other side of the Wagen looks like this:
Fun facts: The Wagen parked at the end of our new one in the first picture is the first Wagen I ever lived in. In the second picture, the (almost) entire wall can be opened down into a terrace.  We won't be doing that, as we'd prefer a thickly insulated wall, but still, it is a nice option to have.
Meanwhile, I still spend most of my time dreaming of the mini-house-Wagen-combo construction that I am planning on putting together this spring.  Once the Beard and I finish arguing about details, I will share some plan sketches with you all.  I am so excited.  Here's to a very exciting dwelling space in 2013.