my cloth diaper fairy godmother delivers: first impressions of our new cloth diapers
Since many of you have played cloth diaper fairy godmothers and fathers by buying the Beard and I something from our baby registry, I wanted to share how ecstatically excited I was this morning when the first package of loot arrived at my door. Look! Look! You made my morning.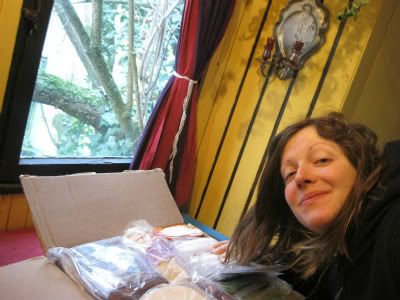 Though these things were ordered ages ago, they were all sent to my cousin's house in America first. She then repacked them to send to Germany together. Because international postage is a bitch, and it's getting more expensive by the second. Not to mention customs fees, which get charged when you order something but don't get charged when individuals send you gifts.
This package was mostly full of cloth diapers, diaper inserts, a few diaper covers, and biodegradable liners that you can use to make dealing with pooped up diapers easier. I think hormonal insanity may be the only explanation, but cloth diapers make me really, really excited. Inordinately excited. But at least some part of dealing with poop does. Otherwise diapering for the next however many years would be a pretty grim prospect. (Am also excited at the thought of trying this, though I don't think I'll bother even attempting it until next summer when we're outside all the time again.)
There are a lot of reasons to choose cloth diapers, and there are a lot of reasons to choose disposables. We chose cloth for three reasons. One: I cannot morally stomach the thought of putting somewhere around 6,000 little "disposable" pockets of crap into the landfill. And jaysus, have you ever read those stories about people excavating fifty-year-old diapers from landfills and finding little nasties like live polio cultures in them? No thanks. We owe it to the survivors of the apocalypse not to leave things like polio (these cultures get into diapers through vaccines by the way) laying around in a huge heap of other valuable resources. Two: Price. Disposables are expensive when you add them up over time. Cloth diapers are expensive once. The difference turns out to be about a tenth of the cost (you would have paid for disposables if you use cloth), according to these folks. If we ever have another kidlet, those numbers just keep getting more attractive. And the fact that we choose cloth diapers as THE thing we wanted to get as presents from the present-minded, those numbers are looking a whole lot like a big fat happy zero. You guys rock. Three: I don't use things like disposable pads because I find the feeling of that fake-o pad material absolutely horrible. And because disposable products are pretty much the business persons' wet dream solution to holding buying trends steady, and I don't want to support that. And because of the environment. It's all cloth for me, and I'm not going to put my kid in something that I find uncomfortable myself.
There are of course lots of other benefits too, according to the moms of the internet. You tend to get less diaper rash, they smell better, they are fucking adorable, they aren't choc full 'o chemicals, and etc. The only problem I've heard about so far being that cloth diapers put your kid in a bigger bottom size than with disposables, which can make finding onies that fit impossible. But I didn't buy anything under size 62 (three months) anyway. You also, obviously, have to do a lot more laundry, but it's a price I'm very willing to pay to reap all those benefits.
The irony of purchasing cloth diapers out of ecological concern/guilt is the way they come packaged. You'd think that companies marketing to crunchy folks interested in having a low eco-footprint, or whatever the hell that's called, would be smart enough not to pack their products in individual plastic bags. But FuzziBunz, Kissaluvs, Happy Heinys, and GrowVia all do. Look at all this fucking trash! Just from eleven diapers!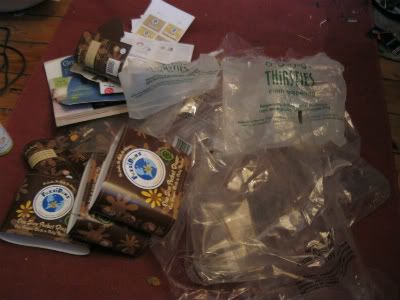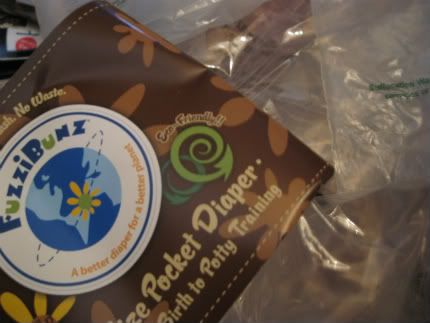 Yeah, yeah, yeah FuzziBunz, print "No waste" and "Eco friendly" on the paper wrap inside the plastic wrap you deliver your products in. No one will notice your hypocrisy. They'll obviously be too busy hugging trees. Cough. Hack. Choke. The only brand that seems to have thought about this issue is Thirsties. Their cloth diapers all came in "Responsibly & Sustainably Packages 100% Biodegradable/Compostable Bags." Good for you, Thirsties. And we'll see if I still think you're so great when I bury your bags in the compost, and they are still there next year… (I have heard too many questionable things about biodegradable plastics to erase all cynicism on the subject. But maybe my experiment will prove me wrong.) And anyway, they still deserve some extra points for better intentions.
I'm rabidly curious to start testing all these diapers, and I'm sure once the time comes I'll be writing some detailed ramblings about the pros and cons of all the different styles we're trying out. But even pre-use, I've already got some concerns. Happy Heinys, for example, say right on the label that you're going to have to replace the elastic around the leg in their diapers at least once in their lifetime, or at six months of use. And yet they do not look easy to take out and replace. FuzziBunz, on the other hand, admits the same but includes replacement elastic and have fashioned the bits of elastic around the leg in such a way as to make them easy to switch out. Many of the inserts (to make the diapers more absorbent) don't fit in many of the diapers' designated diaper insert pockets. (Good thing I'm mostly planning on folding up prefolds and bits of towel and burp cloths to use as inserts. Then I can at least make them whatever size I need.) But the real test is yet to come.
So. In conclusion, Captain Diaper Head says:
1. Cloth diaper companies should really reconsider all the plastic packaging. (Maybe I should mail it back to them with a complaint letter? Any other ideas on meaningfully commenting on that?)
2. If you're going to make diapers that are going to need repairing make them easy to repair, even for sewing idiots. Especially for sewing idiots.
3. Glow-in-the-dark-skull-and-crossbones cloth diapers are the best thing to happen to baby poop since, well since I don't know what, but they are fucking awesome.
4. Thank you so much to all of the Click Clack Gorilla readers who bought us something from the registry. You are super heroes all.
Want to read more Click Clack thoughts on Gorilla Parenting? Check out…
if you do not buy our products, we will kill you
buns, ovens
possibly the future kindermobile
ramen confessions
punk rock dads and peanut's pants
midwives and home birth in germany part one
midwives and home birth in germany part two
This post was a part of the Cloth Diaper Blog Hop on Change Diapers.