mary mary quite contrary
How does my garden grow? Not well, not well. I started out the year with humble goals and reaped even humbler benefits. My very first garden in Mainz was a raging success. Beginners luck? Must have been because every year since some disaster has come between me and a decent harvest. I mean, damn, look at these pictures from the garden I threw together in 2009. We were up to our chins in tomatoes! I ate spinach salads every day! The sage plants I started from seed that year are still alive today!
Alas, the following year things did not bode nearly as well. I bought seeds from the flea market and none of them came up. 2010 was not a Click Clack Garden year.
This year I planned small. I would grow spaghetti squash (which I don't see around here often, and I miss terribly), nasturtium, arugula, spinach, savoy cabbage, and red beets. Mama Beard gave us lettuce and garlic (both of which died very tragic deaths early in the season), strawberries (still kicking but non-producing), and chives (also still kicking). I decided against planting tomatoes, but got almost 30 volunteers from the unfinished compost that I used to fill most of the garden. But you all know what happened to them.
A week after the tomatoes went, the spaghetti squash plants followed. The arugula was lovely, the red beets were smaller than my pinky nail, and the savoy cabbage and spinach made brief, un-noteworthy appearances just before the nasturtium took over the rest of the garden in a brilliant show of orange and red that made me feel a little better about the loss of almost everything else. The herbs all came back on their own and did well (sage, lemon melissa, mint, oregano). Plants I don't have to attend to always do come out on top.
RIP, garden, RIP. This week I've been working on getting the bed ready for winter—ripping out all of the weeds, mixing in compost, and collecting fallen leaves to cover the bed. The garden might have been a failure, but I did get five spaghetti squash, a basket full of beautiful purple beans (that someone else planted and placed next to my bed), and the red beets and lettuce from a friend's garden who has been away all summer. In loving memory, a short photo stretch of Click Clack Garden 2011…
In the beginning there was a layer of cardboard, a long battle with a role of chicken wire, and far too many wheelbarrows of compost: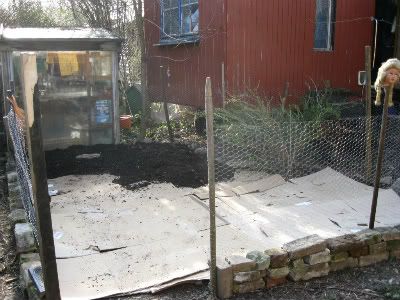 This year I decided against an early start in the greenhouse and went right for the seeds-in-the-ground approach (dumpster dived that little red watering can too):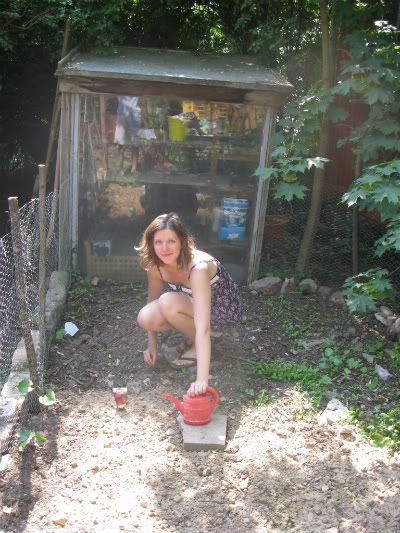 And now it's crossed over to jungle, the nasturtium the only surviver in the battle of the best-at-strangulation: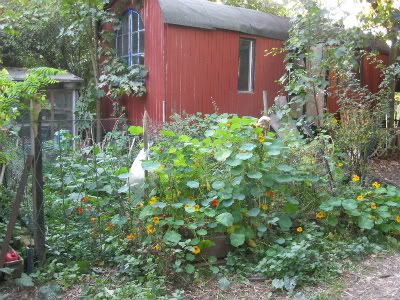 The harvest has been miniscule, but at least it's been pretty:
New to Click Clack Gorilla? Try one of these on for size…
Wagenplatz FAQ – Find out more about the intentional caravan community where I live

Check out some sweet diy pallet furniture
Read a story about hitch hiking in Germany
Discover the euphoria that is dumpster diving
Imagine a life without electricity
Having a non-consumer pregnancy
This post was a part of the Garden Life Series at No Ordinary Homestead.