little red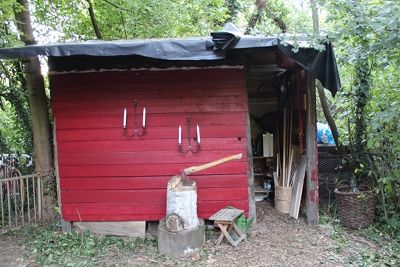 I proudly present to you: Our new shed.
We have been meaning to build this damn thing for over a year. Strike that. I have been meaning to build it (promising to build it) for over a year. And the Beard has been patiently waiting. But then he got tired of waiting, I accepted some help, and we built our firewood's new house in a few days time. Almost entirely scavenged materials! For the win!
And, yes, those are candles hanging on the front.  Because chopping wood by candlelight is pretty awesome, not to mention romantic (ummm, or something) and doesn't involve running pesky power lines or remembering to put the solar lamp's cell out in the sun during the day.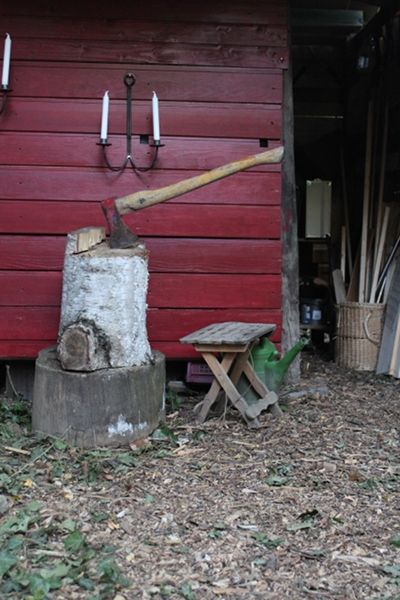 Some of those boards I scavenged in Mainz, with the intention of building a sweet shed out of them one day. (Frankenshed was nice, but this is a lot easier on the eye.) They've been sitting outside sort of under a tarp ever since. It's a wonder that they weren't all rotten. Other boards came from our red trailer's ceiling, which we redid because the person who had put it in was apparently drunk—I can't think of any other reason to just screw tongue and groove boards on top of each other like that without fitting them together.  It certainly made the boards look like they were drunk.  And now they are a shed wall.
We found the bigger beams we needed laying on the bonfire pile at the front of the property.  There were a lot of nails in them, nails that I tried to rip out with a crowbar.  When that barely worked, we hammered them all flat and got on with it.  I put it together, and the Beard did all the sawing.  At the time we only had a hand circle saw, which I—for no actual reason whatsoever—don't like to use.  (I've since bought myself a jigsaw.  Love those things.  Also love my "Japan" saws, as they are called in German.  Fucking best saws ever.)
The roof is made of someone's old terrace (we saved it from the bonfire pile as well) as well as some old flooring we found.  We covered the roof boards with tarps made to create faux ponds in people's backyards, which I got from freecycle.  We did buy the paint, a second bit of tarp (my free bit wasn't quite big enouhg), and a few three-meter boards to finish off the back wall when the firewood came before the scavenger gods had offered up any other solutions.
Having built this, I feel pretty confident that I could build a little house.  I would do a number of things differently, more exactly, and with better materials, but it isn't as hard as it looks.  It never is.
Hey, look!  There's my Wagen!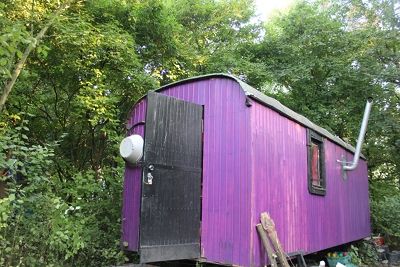 Since the shed, our yard just makes me happy.  (Of course, the weather has turned for the worse, which means things are getting rather straggley, but before that.)  I wish I had done this months ago so that I could have spent all summer sitting outside and admiring our work, and our neat, tidey yard.  Maybe then I would have been inspired to finally plant the herb garden or the forsythia that I've had planted in my head for months.  But there's always next year.  Winter is coming, but so is spring.