ladies, sharpen your scissors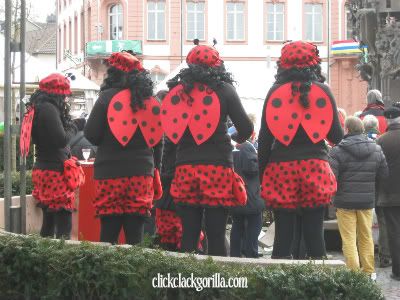 And so another week of Fastnacht (aka Karnival aka Fasching aka German Mardi Gras) begins.  Today is what folks 'round here call "Altweiber" which literally means "old woman" but refers to one of the opening Fastnacht celebrations.  Basically if you're a lady you're allowed to cut off the tie of anyone you find wearing one.  And as much as I don't really get into this holiday, that sounds like fun to me.  (Note to self: get some wild hoard of activists together to storm a tie-heavy office full of people doing evil things next Altweiber.)
Usually I avoid the city like it's been infested by plague victims when Fastnacht comes around.  As a holiday, its main focus is getting huge crowds together to listen to bad music in cheap costumes while consuming as much beer as possible.  Many aspects of this are appealing.  But not the crowds, dear cod, not the crowds, who are, depending on your timing, in various shades of really fucking drunk.  I don't like big crowds, and I like them even less when they are drunken and dressed as circus clowns.  A lot of people really really like this combination, however.  Which I guess explains why you get the crowds in the first place.  It also explains why nine months later, there's usually a little baby boom.
Fastnacht, like pretty much every holiday I have ever heard of, has roots in some sort of pagan-y celebration of something or other.  I can't remember what (the Beard told me this morning) and having just spent the morning researching this exact subject for work, I can't be bothered now, on my time off, to actually look into the facts.  In Mainz the event also has a strong "fuck you French occupiers" tradition, which means that the government gets mocked a lot during Fastnacht (and another point for the holiday!).  Oh and Mainz is one of Germany's three Fastnacht capitals (the others being Cologne and Düsseldorf), which means that if you live down town and are a Fastnacht Grinch, you are totally fucked.
Rose Monday (also known as Peanut's due date, and dear sweet cod do not let her be a Rose Monday baby) is another big day in the festivities.  There's a parade that I've never seen, and an even bigger crowd than the one I encountered this afternoon around the Fastnachtsbrunnen (the Fastnacht Fountain—that's how much Mainz loves this holiday) when I—against my better judgement—went into town to take a few pictures for a blog for work (some of which you are seeing on this post, others of which you can view there).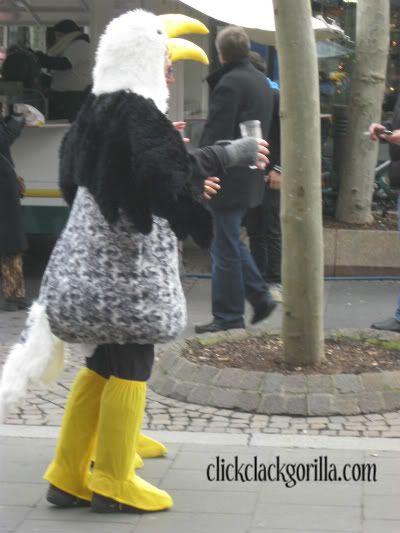 Up on the hill where our community is located, you could go an entire Fastnacht without realizing that the holiday is even taking place.  (For this I am thankful.)  On the bus that took me down into the center of town, there was a lone fool in a colorful hat (no bells gracing its peak, but a disco ball).  I began to worry that there might be nothing around to photograph, which makes me the biggest Fastnacht fool of all.  Off the bus I began to see more wigs, more hats, more painted faces.  And by the time I had gotten to Schillerplatz and the fountain, I was surrounded by lady bugs and cookie monsters and monks and witches and pirates and clowns and every animal in the encyclopedia.  Mario and Luigi were there, as well as a woman wearing a model of the Mainzer Dom (cathedral) on her head.
Several hundred people were packed in between a large stage and city hall, singing along to the Fastnacht songs being played (lip synced?) on stage.  But the crowd was manageable (not like it will be on Rose Monday or any evening this weekend), perfect for costume watching.  From my perch on the crowd's rim I watched a group of bears smoking cigarettes while a walking barrel and a large bird stood with heads close together in heated discussion.