la la la la la LA!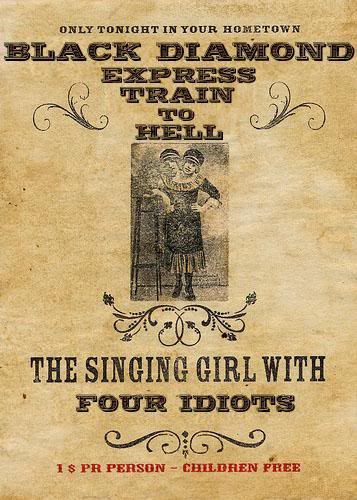 If you read this blog regularly, then you probably imagine that I spend most of my time either in a trash can or hammering away on my work-in-progress wagon. This is mostly true. But what I've never mentioned is that I also spend a lot of time making music. And now, seeing as we've finally recorded a demo, I thought I would tip off any of you interested in gorilla country blues.
Black Diamond Express Train to Hell (Don't be shy. Add us as a friend if you're on murdochspace.)
There are only three tracks up for now, and they are not mastered. Apparently, the guy who has been helping us with the mastering disappeared late Saturday night and has not been seen since. Go figure. When he reappears and I've finished sewing together all of the covers and Sue has finished burning all the discs and the Reverend has finished fiddling with the artwork, there will be happy little CDs for sale with eight songs—five of our very own and three old traditionals.
In the meantime, enjoy the rough cuts. Spread the good word. Raise a glass.
PS I am not responsible for this poster labeling the rest of my band mates as idiots, fyi, though I do wish I had two heads as it would probably make for sweet live harmonies.
Upcoming shows:
16. April, Vorstadtprinzessin, Köln (start 6 pm sharp)
17. April, AZ-Müllhaus, Mühlheim
4. May, AK44, Gießen with Lycka Till from Sweden
5. May, Haus Mainusch, Mainz, also with Lycka Till
Yihaw, peng peng, etc.