january and the rest of your life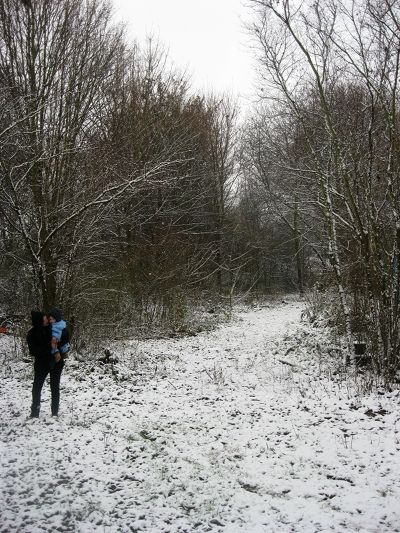 I don't like putting my plans in a tiny little box. Why label the schemes and dreams and goals and sparks of a January day a New Year's resolution? When I hear the words "New Year's Resolutions" I think of people vowing to lose five pounds, buying a gym membership, and then going three times before next January.  The phrase seems to have failure built right into it.  I reject the term because I don't want my dreams to get all soddy with somebody else's lack of resolve.  I have been scheming, and you better fucking believe that this to-do list is getting its ass kicked.  Well, I better believe it.  And I do.
As I mentioned yesterday, we bought a third Wagen (and for anyone new here, you can click on over to "Who is Click Clack Gorilla" if you have no clue what the hell a Wagen is).  With three, we will have one per head, the original plan being to set them up in a circle, the new one becoming Baby Pickles' room, and to get on with our lives as we have for the last five years.  But!  I have been inspired to Frankenstein a tiny house out of those three caravan homes, connecting them so that we no longer need to traverse rain and snow and cold (though also: sun and warmth and light) to get from our bedroom to our kitchen and back again.  The Beard and I are still hashing out details, but it looks like 2013 is going to be another year of diy renovation and supply scavenging and at the end of it all, we will have a totally different space to live in.  I can't wait.
Meanwhile I have started planning a novel, as well as several short stories, all post-apocalyptic and distopian in nature.  I have found inspiration in long walks and William Gibson's recent book of essays, Distrust that Particular Flavor.  My imagination has long been straying in that direction, but it has only recently begun to become organized.  Will this be the year I seriously return to fiction writing?  Only the pages of my notebooks will tell, when we meet up again here next year.
I also want food to play largely in the next year of my life.  January will be amonth without sweets.  Before I got pregnant I favored the savory.  Then I got pregnant and became a sugar junkie.  When I wasn't throwing up I was so fucking hungry, and I was eating whatever was in reach.  Sugar and junk were often all I could keep down, and the habit has kept right on going.  It was fun for a while, but I'm over it.  Goodbye, sugar, for now.  Hopefully in a few months my pallet will be back to finding more than a dollop each month icky.  I don't want to be addicted to a substance that does such weird things to your body.  (Some people have even gone as far as to call it toxic.)
At the same time, I want to find where I left my love of cooking.  Somewhere between laziness and a lack of time (thanks, Baby Pickles!) I have almost completely given it up.  Luckily I have a Beard who likes to cook, and though I feel pretty happy to have a male partner who—gasp!—does almost all of the cooking and cleaning, I don't want our relationship to be unbalanced in that way.  And damn it, I like to cook.  Pickles will be eating more and more, and I want to fill our house with beautiful, lip-smacking dinners, eaten together around a cozy kitchen table.  The new-house-building plans are going to help with that a lot.  Did I mention that I can't wait?
It is hard to say what the rest of the year will bring.  Pickles will start walking and talking, which is just, just, whoa.  Hopefully we'll remain happy with this community, despite how different it is than the one we left behind in Mainz and how conflicted, and hopefully hopefully hopefully I will finally be able to start working my regular hours again.  Potential.  It always fills me with energy.  What are your plans?