internet faux pas, moving, dumpster diving, and archery
The weather is perfect.  I love the start of fall.  The outdoors are a'calling (as are a bajillion things that I need to do to my Wagen before winter), and I find little time for blogging.  Perhaps I should take a page from the speed dating book.  A few updates in fifteen minutes or less…
Umm, sorry about that hiccup where the website was suddenly gone.  Whoops. If you tried to come by Click Clack Gorilla the past two days and found scary ugly nothingness, I apologize.  I was a day late paying the renewal fees for my domain name.  This is the second time I have let this happen (though the first time I was traveling, and it took me a long time to notice and an even longer time to get things fixed), and thank frickin cod that nobody seems to be lurking around waiting to scoop up www.clickclackgorilla.com because I renewed and now things are working again.  Having to give that up would be incredibly sad.  Anyway.
We are finally fucking moving.  Like maybe tomorrow.  I had become completely unmotivated again, in all things related to the move.  Then this morning the Beard gets this text message: "We could move both Wägen tomorrow, the baby Wagen Thursday."  Holy shit!  I felt like springing into action.  "Let's do it!"  That was me.  "No frickin' way!"  That was the Beard.  We are hoping to be able to settle on this weekend, if our moving guy can do it then too.  Could be that the next time I write to you, our wheels are settled firmly on Hessen soil.  Fucking finally.  This waiting and preparing has dragged on far too long already for my taste.
Baby Pickles just discovered that she has hair.  Now she is no longer limited to pulling on my hair or the Beard's beard.  Stroke, grab, pull, stroke, grab, pull.  However, she doesn't seem to mind when she pulls her own hair out, so I guess this won't be a lesson in why not to pull my hair.  She also can sit pretty well.  And eat like eating is the same as sloppily putting on make-up.  Peach face! Peaches are by far her favorite.  Soon we're going to need to get another sack of clothes.  Banana baby!
I did my first dumpster dive with baby!  I felt so proud.  On a walk to get Pickles settled one evening I happened upon a pile of wood that would be lovely for some trim I need to do on my Wagen exterior, and for building stairs.  The following evening I strapped Pickles on, put a little seat for her in a bike trailer, and walked over to get it.  While I pulled useful boards out of the pile, Pickles sat in her chair in the shade and watched.  The boards were a bit long for the trailer, which prevented me from taking as many as I could have used, but damn was I happy to get some decent scavenging done with the baby in tow. I'm going to be even happier to put them to use.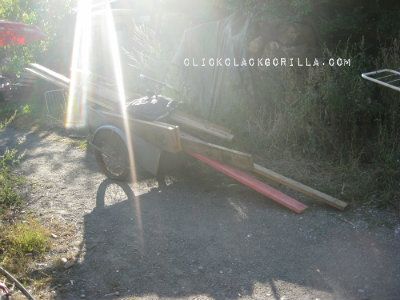 I finally read Dies the Fire. Which other PA (that's "post-apocalypse" folks) lit fans have been recommending all over the internet for ages. While it is not literature, not even close, it is a great story, and I am obsessed.  Maybe even OBSESSED.  Good thing S.M. Stirling made it a trilogy, and then wrote a six book series in the same world that takes place a generation later. It is making me both want to write a really long review (coming once I finish the trilogy) and to take up archery. Oh my.