if you can see this post, you have won a prize. and also: our kitchen!
And the prize is that you can see this post.  SIGH.  My radio silence lately has been the result of some technical issues.  I would describe them for you and whine a bunch in vivid detail, but really, who fucking cares?!  I owe you some pictures of our new kitchen, and today I am here to deliver.  That's right.  Uh-huh.  Look at these beauties.
You've seen the outside at least a dozen times already, but, yeah, it is still awesome.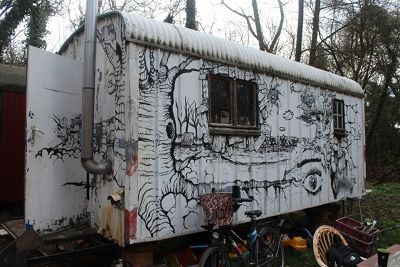 No fictisiously clean kitchens in my photos! I am not fast enough to take pictures during the three seconds that is remains orderly before the next Hurricane Pickle/cooking strikes.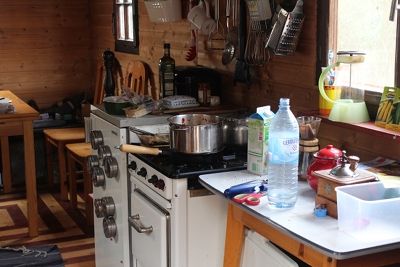 I think food makes the best decoration in a kitchen. So I built narrow shelves and lined them with my extensive collection of glass jars. The jars also help keep the grocery moths at bay. I fucking hate those moths.
Note the beautiful floor. Done by our awesome floor who used to live in this space.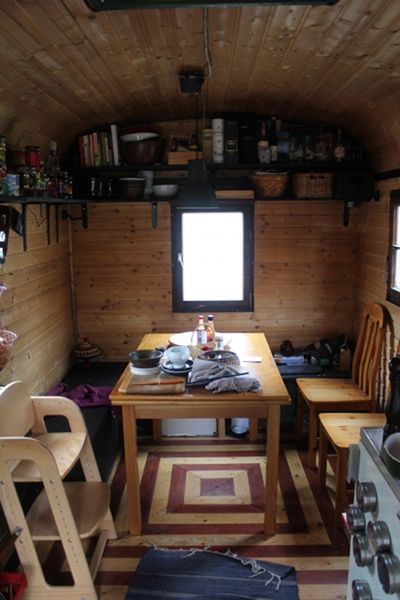 I still can barely fathom the luxury that is having a full stove with three burners and an over. OH HELLS YEAH. Also: isn't the stove cute? I am in love. The Beard found it for sale online for 25 euro bucks.
Love.
I still think hanging shit is the best way to make use of your space in a small kitchen. And it looks pretty too. See that cow head hanging there? It makes toast. On the wood stove. More love.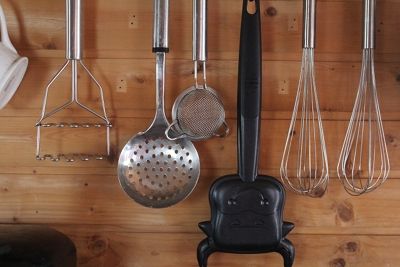 Ikea. Making the world boring, but with a real nice selection of hanging bobbles for kitchens.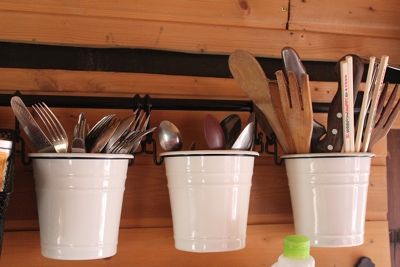 Like these hanging drying racks. Such good use of space. Now we just need to get a sink in here.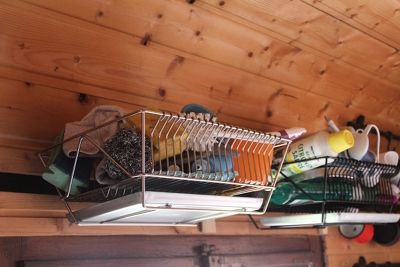 Another hanging drying rack, one I got for free from freecycle, but also originally from Ikea. It also folds up. Genius.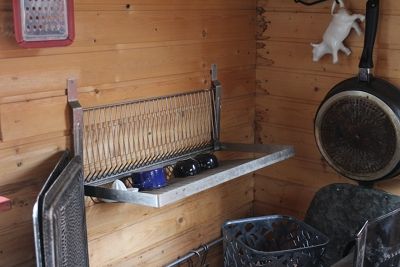 More glass jar porn.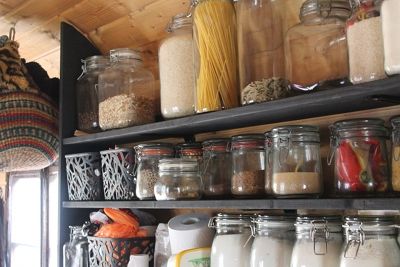 This is where we store towels and things.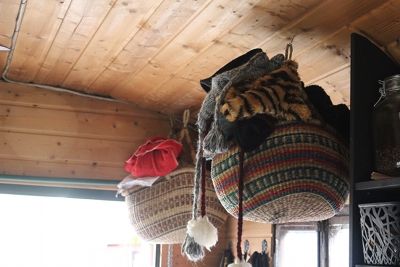 Pancake forms. Pigs, hearts, clover, bears. Cute as fuck. Making cooking fun again.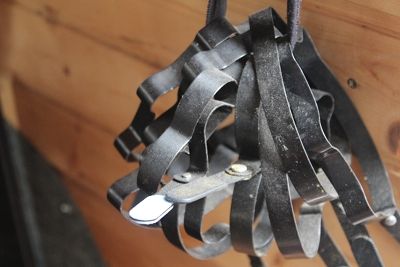 My coffee grinder will still work after the apocalypse. Will yours? Ok, ok, you're right, there won't BE any coffee to grind. So what. I still love this thing.
Ta-da! What do you think?
NOTE NOTE NOTITY NOTE: I started a book-ish website, and I would love it if you all came by and said hello and liked our facebook page and stuffs. Going to keep most of my book ramblings over there from now on, and the tiny house ramblings will all still live here. Once the CCG redisgn that is happening RIGHT NOW AS I TYPE is done (whoops, cat out of the bag huh?), even more so.  GO VISIT IT ALREADY: Book Punks.