i drink raw milk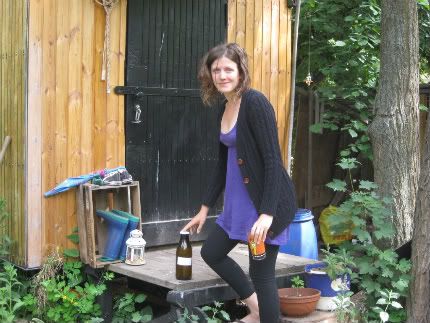 Mmmmm. Milk. When I think of milk, I think of white mustaches and dunked cookies, of the comfort of hot chocolate and the "Got Milk?" ad campaign that was everywhere when I was growing up. I remember replacing cow milk with soy milk when I decide to eat vegetarian, and, of course, when I continued on into veganism. Then one day my face swelled up in big red blotches, and bam just like that I was allergic to soy and out my main protein source. I started dreaming about cheese, and soon returned to vegetarian shores. Re-enter milk, stage left.
I hadn't become vegetarian (or vegan) because I found the consumption of animal products to be inherently wrong, but because I found the animal product foods industry to be inherently wrong. Workers are treated poorly and the animals even more so. We've all seen the PETA pictures of the factory farms. It's not a pretty sight, and all the "supermarket pastoral" pictures of cows grazing in bright green fields under an open sky on the supermarket milk packages couldn't make me forget it. So when I started drinking milk again, I knew I wanted it to be from a small local farm, and I knew I wanted it to be raw, that is to say, unpasteurized, unprocessed, unmolested.
My reasoning had to do with what I had been reading about whole foods, particularly raw milk. I read stories about people whose doctors had pronounced them lactose intolerant who could drink raw milk with no problem. I read stories and studies about the way children grew faster when drinking it and about it curing everything from asthma to digestive disorders. And all this because during pasteurization the good bacteria are killed along with the bad and during homogenization many of the milk's nutrients are destroyed. As a French-born cheese shop owner in Berlin told one journalist, eating pasteurized cheese "…is like being at a funeral. The bacteria are dead, the cheese is dead, it can't develop any further. It only tastes like water and fat."
Unfortunately, raw milk is something that government food regulators are fond of banning. Here in Germany, it is only technically illegal—that is, it's illegal to sell for consumption the way supermarket milk is, but can be sold if labeled otherwise (Vorzugsmilch or Ab-Hof-Abgabe). Which means that here in Germany I can read the government warnings, but am ultimately left free to make my own decision. In the United States the FDA conducts undercover sting operations on Amish farmers who presume to sell unpasteurized milk products to people who have consciously decided it's raw dairy or nothing, people who are willing to sneak around the law to get it, people who are willing to fight for their right to whole foods. A friend of mine had her buyer's club shut down by just such an operation in May. (You can read about it here.)
The FDA is convinced that raw milk is bad for you, but, unfortunately, they have done an incredibly poor job proving it: their studies are biased, their statistics faulty, and many of the illnesses that they have linked with raw milk consumption involved no tests on any of the raw milk in question (raw milk advocates have put together a report that refutes the FDA's evidence against raw milk point for point, and you can download it by clicking here). Even according to their own statistics there are more food-related illnesses caused by deli meats and pasteurized milk than there are by raw milk. The thing is that there is a risk involved in any kind of food, and you can get sick from pasteurized dairy just as you can from unpasteurized dairy.
The beauty of the raw milk most food enthusiasts are drinking, that I am drinking—and when I say "raw milk" I mean unpasteurized, unprocessed milk from grass-fed cows, not unpasteurized mass-produced grain-fed industry cow milk—is knowing exactly where your milk came from and who farmed it. The farmers' names and address are printed right on the label, and often it is one of those farmers who, every Saturday, hands me fresh bottles of milk and wraps my cheese in white paper before telling me to have a great weekend. Can you say that about any mass-produced milk? Even the crunchy organic stuff? I trust people I know more than I trust a faceless, nameless factory farm, more than I trust the FDA and their statistics. For more information about raw milk, click here.
And what about you? Do you drink raw milk?

This post was a part of Kelly the Kitchen Kop's Real Food Wednesdays.