how to join an intentional community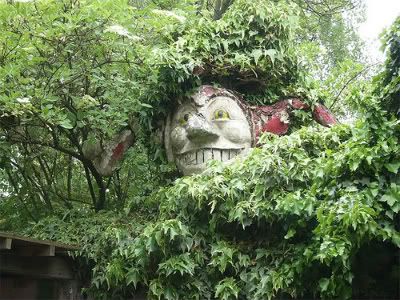 The thing about living in a collective is that a collective can't work without communication, and the thing about communication between 17 people is that you can't do it without scheduling meetings. And everybody hates meetings. Even when they are part of keeping your heart pumping.
Our meetings take place irregularly, called whenever someone feels the need via a sign hung in the center of the Wagenplatz. (For any new readers here, you can find out more about what the hell a Wagenplatz is by clicking here.) Whoever is around gathers, a recorder is selected, and topics are collected. Then they are discussed one by one until they're all checked off the list. Pretty much like any other meeting aynwhere. The main difference being that all decisions are made by consensus.
Consensus decision making is a tricky beast. It's difficult to come to and even more difficult to find without slipping into unsavory habits. (Some folks wrote an entire book about this called Come Hell or High Water that is sitting on my bookshelf waiting to be read.) But it is incredibly satisfying. Because you always know that even if you are in the minority your opinion will be respected, heard, and honored. Because even if you are the only one who sees an issue in a certain way, that you will not be bullied into accepting another fate just because you're outnumbered. I prefer it to majority rules decision making by a long shot, but it's also difficult to pull off in large groups.
Last night there were a number of issues on the table, including two requests to become permanent members of the community. In order to move to our Wagenplatz, you first have to introduce yourself and submit your request to the group. If you just want to be a temporary guest, we discuss it, check whether the guest trailer is free, and then decide how long you can stay. If you want to be a permanent resident, you make your request and then leave the round so we can discuss whether or not to give Probewohnen (trial living) a go or not. During Probewohnen you then spend a little time in each of the communal kitchens, a tradition which is supposed to facilitate getting to know everyone in the group. Then at the end of two, three, or six months, depending on the current whim of the group, we meet again to discuss whether you can move in for reals. It's a heavy process, especially when space (or a lack thereof) requires us to be extremely choosey about who we let move in. With only one spot currently open, we're currently only accepting folks that the entire group (more or less) is really really excited about. And each individual has veto power in his or her own right.
After a difficult round, we decided to turn both requests down, and it was a sad announcement to make to two nice people. It's hard to say "it's not personal but we don't want to live with you," but sometimes it is true.
Do any of you live in collectives? How do you decide who gets to join the group?