HOLY SHIT
The phrase holy shit does not translate into German. If you try it people might not laugh at you because they've heard the phrase in English, but in German say "heilige Scheiße" and you just sound like an idiot. Then again, taken literally, "holy shit" is a ridiculous phrase that probably has a fascinating etymological story. But that is besides the point.
THE POINT, my friends, is that today Snowflake and I replaced the moldy support beam that I have been dreading/avoiding for months. Leeching onto someone else's optimism about how easy something will be makes getting motivated much easier. Especially when said optimistic person offers to help, and then rips the moldy beam out with bare hands.
This is what it looked like before. Mold that turns wood into cheese is not your friend. Then again, when you are working with wood, you don't have a lot of friends. Water, mold, bugs, and time are your enemies, and in the long run they will always win.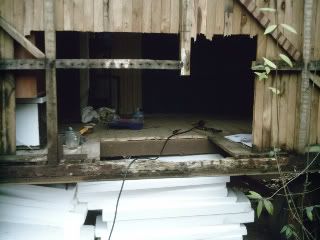 Then we WD-40ed a few rusty screws here and cut a few things there, and hit it with a hammer until it looked like this.
And that's when Snowflake transformed into the Hulk. Now it looks like this, and tomorrow I can start closing up the hole that I should have taken care of months ago.