holy fucking shit the battenkill ramblers cd is finally finished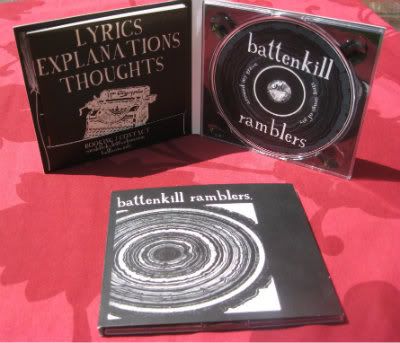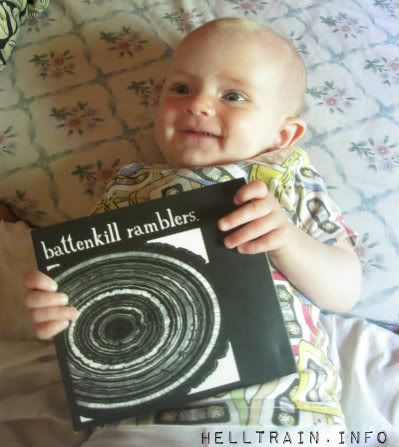 In January we recorded it, back in the day when we were still calling ourselves Black Diamond Express Train to Hell. Then mastering took forever, like it always seems to. Then mastering was done and suddenly two people were leaving the band. What the fuck were we going to do with the cd we'd worked so hard on then? Bring it the fuck out, that's what.
So the Beard went to work designing the cover, and I went to work typing up the text booklet. After quite a lot of detail mongering, we sent it off to the press, and now here it is, get it while it's hot.  This time around all the songs are originals, nine little birdies who want to sing you a song.  It feels so good to finally hold it in my hand, and I am particularly in love with how the booklet turned out.  Three thousand high fives for the Beard, who has much more patience with Photoshop than I do.
Want to order a copy?
In the past I have been down right shitty with sending things out on time.  And if cod is my witness, damn it, I'm not going to do that anymore (Dear Filzy, You won my sweepstakes.  And I swear to you I will someday make it to the post office.  Maybe even someday this week.  I know, I know.  This is totally embarassing.  But I thought I should mention that I haven't forgotten you. Love, Click Clack Package Procrastinator).  Even if I have to bribe the Beard into going to the post office for me.
So.  If you'd like a copy of our new CD, "Around My Grave Sing Songs of Joy," then we want you to have one.  Because we sent them off to be printed this time around, they are a bit more expensive than we would have liked.  But I hope it doesn't deter you from ordering a copy.  Your money is going to support 100% organic, home-grown DIY porchcore.  The prices are listed below.  To order, paypal the appropriate amount to nicolettekyle AT yahoo DOT com (you can also just click on the "donate" button in the left column).  In the notes section along with your payment, please include your mailing address and the number of CDs you'd like to have.
Prices (shipping included—we can take both euros and dollars):
Europe 11.20 (euros)
America 12.50 (euros) or 15 dollars
If you want a CD shipped to a place not yet listed, just send me an email, and I'll inquire at the post office. Thanks so much to everybody for the support.