hi-diddley-ho, the pirate's life for me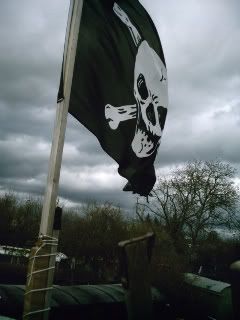 It has recently come to my attention that some of you, beloved readers, are kind of confused about my life. "So you actually live in a cardboard box?" "Who the hell are all these people you keep talking about?" "If you don't work, what is it you actually do all day?" "Are there people who actually listen to Brittney Spears?" "Do you ever shower?" "Could you please start?" Relevant and irrelevant, these are the questions I've been hearing lately, and I thought I should skip the whole I'm-going-to-try-to-make-this-all-purdy writer shit and just tell you what's what and where's where and who's who.
So, first thing's first. You see that picture to the left? That is the pirate flag atop what I refer to as "the battle tower." Last summer while I was greyhounding around America, a couple of people back home got bored (and probably drunk), made a big pile of scrap wood, and nailed it into a two-story tower. At the bottom of the battle tower is the little herb garden you will probably hear a whole lot about in the coming months. I'm (re)learning how to garden, when to plant, hoping that I can learn how not to kill plants in my care. "Are you watching the plants grow?" That's another question I've been hearing a lot lately. Well I'm not. I'm talking to them and they told me that in a couple of months they are going to feed me delicious things like sage tea and garlic sandwiches.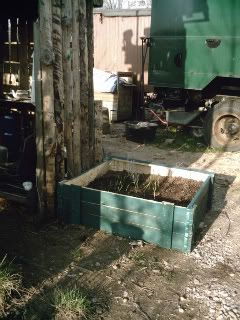 The spice garden is important because we almost never find spices in the dumpster, and if I'm ever going to manage to quit money com- pletely, I'm going to need at least an acre of garlic. And while we're in the kitchen, well, next to it, let me tell you about die Hölle (that spells "hell" in English). Die Hölle is the vegan kitchen, home to the dumpster diving crusties who are always 1. cooking 2. eating 3. talking about cooking 4. talking about eating 5. on their way to get free food 5. talking about get- ting free food. We have a gas stove and oven, couches, cabinets, a table, a tape deck, wine-case shelves, and as many mismatched plates, glasses, mugs, and lid-less pots and pans as the trash gods have gandered (aka a whole lot). We even have a fridge, but we only use that when it starts getting really, really hot outside. What we don't have is running water. Instead, a big plastic canister we fill up at the faucet at the front of the wagenplatz and a big metal bowl for doing the dishes.
Total, we're a community of about fifteen people, soon to be seventeen. We have individual wagons where we all sleep/live. We have three community kitchens for cooking (Hölle, Punker, Luxus). We have a guest wagon and an "action" wagon (like demo action, not action action). We have a movie wagon with an enormous tv and an even more enormous pile of dumpstered movies, and a table for playing boring games like Risk and awesome games like Boggle. We have a whole bunch of little green corners that become outside living rooms the moment spring shows so much as a toe. And we have our dear (once) squatted house for voküs, concerts, exhibits, meetings, and whatever else we can think of in the meantime. Which should answer your question about what it is I do all day long. Move into a wooden wagon in the university part of town with a bunch of chaotic crusty hippy/punk/freaks trying to run a venue together, and you'll never reach the end of a to-do list ever again. (Probably because you didn't write one in the first place! Ba-da-bing!)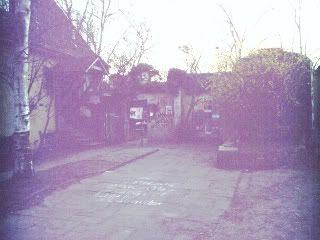 Once upon a time in the 80s, Haus Mainusch was squatted for two weeks. Now it's (theoretically) (possibly even technically) "legal" and we pay for water, trash, and electricity and the university that owns the land doesn't send in the cops with the tear gas and the teenage mutant ninja turtle armor and the rubber clubs. "We" is who- ever feels like organizing stuff at the house (excepting all racist, nationalist, chauv- enistic thugs, those people can go fuck themselves) and all the people who live in the wagenplatz on the property behind the house. There is a "black and red" political pub night Tues- days. There is a punker pub night Fridays. There is a vokü every weekday during the university semester starting at noon. And in between and on top of and next to all that are concerts, par- ties, exhibits, film nights, and a gaggle of spontaneous bonfires and grill nights in the garden out back.
So on an average day, Frankensteined together from hundreds of days that all manage to be pretty different, I wake up, round about 9 (or 10, or 11, or whenever I'm finished sleeping). Get dressed. Walk over to die Hölle and put on a pot of coffee or tea. If it's warm outside, like it is now, join Workshop at the table in front of the movie wagon to drink coffee and tea as the rest of the wagenplatz slowly wakes up and comes by with more coffee and tea to sit around together in the sun bullshitting, making plans, enjoying the sunshine. If it's wintertime, we drink coffee inside, complain about the weather in sixteen hoodies, and chop some more wood for the woodstove. Our wood is either 1. bought from a man and his son who deliver it to us in the fall for about 50 euros the meter 2. scavenged from the trash and the forest–there is no end to places where you can get free wood, mostly from people who just want to get it off their hands or 3. bought in the form of pressed sawdust (mollies) from the German version of Home Depot. We have an electric circle saw to chop the meter-long peices down to stump-sized peices and lumberjack arms and lumberjack axes for hacking the stumps into the oven-sized peices that crackle in our woodstoves.
If it's a vokü day (I cook Wednesdays), I'm up at 9 to walk to the tiny grocery store on the other side of the highway. The owner has become a good friend, and whenever we come over to buy noodles and oil and spices, he gives us all the vegetables we can carry. "It would be such a shame to have to throw it away," he says. "Tell the others I say hello," he says. "Take the wooden produce boxes with you for kindling," he says. We really like the Gemüsemann. He saves us the trouble of having to actually climb into the dumpster. By 10 am I'm wired on coffee and chopping vegetables with whoever is around to help that morning, cooking for an average of 30 people. By noon everything is ready, salad and a main course and usually even a dessert, and people start showing up to eat. The next three to five hours go by in a blur of serving plates, washing plates, and desperately throwing together new creations at the last minute on the days when we run out of food and the hungry people keep coming. Then it's another hour or so of washing dishes, washing the floor, and straightening out the house before I fall into a zombie-like coma in front of an episode of The Simpsons.
If it's not a vokü day maybe I stay in reading and writing letters. Maybe I spend the day writing blogs and emails and working on whatever writing projects are currently burning a hole in my type- writer. Maybe we repaint something in the house. Maybe we load up all the scrap metal we've been saving and take it over to the scrap yard to sell. Maybe I talk to the manager over at the construction site down the street and he says I can take all their scrap wood and we ride the tractor over and a nice truck driver helps us get it back to the house with his little fold-up fork lift. Maybe I go over the the big university "special" trash area and find a working tv/stereo/dresser/ thousands of old pictures of students/shelves/windows/bicycles/paint/surf board/chair/sofa/tea pot. If it's Tues- day or Saturday maybe a couple of us bike into town and ask for leftovers at the produce market. Maybe I plant a garden. Maybe I rake some leaves. Maybe some people get together and build a fence or a terrace or a tower. Maybe I just sit outside all day long in the sun reading, talking, drinking beer mixed with lemonade.
Nights in the winter there are usually a handful of people in the movie wagon playing games or Nintendo or watching movies. When it's warmer there is almost always a group of people sitting around a fire outside. Or maybe everyone just disappears into their own wagons to read and sleep and read and write and play and dance. When die Hölle cupboards start looking empty we round up a small posse to go dumpster diving. If there's a concert there is beer to be sold and music to be danced to and empty bottles and plates to clean up. I rarely leave the wagenplatz because everything I could imagine wanting to do is already here, just a couple of meters away from my house.
As for so-called "hygiene" (a highly over-rated concept), there is the university sports complex for showering, or friends' apartments where utilities are included in the rent. Now that I have short hair I shower about once a month because I like the way that people smell when they smell like people and I hate the smell of most perfumes and deoderants and soaps. (I stopped wearing deoderant about the same time I stopped shaving my armpits.) We have a washing machine in the bathroom wagon (two toilets, two sinks, some urinals, faucet for filling up the water containers we keep in the kitchens). The house has running water in the kitchen for the quick desperate winter hair wash. Several people have outdoor showers that can be connected to the hose or that are watering-can run. Scattered around are old scavenged bathtubs that can be filled, heated with a small fire underneath, and set up somewhere outside in the sun. I've heard magical stories of house festivals where five or six bathtubs were set up in a circle outside around a bonfire, filled with people drinking champagne from fancy glasses.
Technically my income lies canyons below the poverty line. But as long as I have delicious things to eat all day long, a really comfortable bed, a place to access the internet (damn you computer dependency! damn you to hell!), and bathtubs to drink champagne in, well I'm not really sure that the word "poverty" is still relevant. As sick as I find it, it's my "priviledge" to live in a grostesquely wasteful society full of rich idiots who throw perfectly good things away because the economy needs disposable products and disposable incomes in order to survive. And it is our priviledge to not even have to fight other poor people in the dumpsters to feed ourselves. To have parents who give us kind words, old bedsheets, and seeds to plant our gardens. But as the lovely and inspiring leafnest put it in a recent post about privilege,
"i think privilege is a really important thing to realize, to talk about, & most importantly, TO USE. use that fucking privilege, folks! wield it like the magical sword of power it is! use it to defeat the foes that the swordless people can't get close to. although the phrase "use it or lose it" doesn't really apply, something like, "use it or be an asshole" seems to nicely. privilege is a really important tool to have in the activist toolbox.

but i guess maybe more & more privilege seems like a private thing. like something you personally need to deal with & then use. it just seems silly to accuse people of privilege or act like you know anything about their life or assume they're not already wielding that privilege sword in their activism. sometimes privilege seems like a black hole we're all pulling each other into. because as long as we're talking we don't have to be acting. "
So there you have it. My life in a couple of nutshells, a few thoughts about "privilege," and the answers to most of your questions. Why people listen to top-40 radio pop music, however, will remain a mystery for the remainder of time.