hammer, säge, scharfe zähne
I have reached the magical point where I can now imagine finishing the wagon. Which might sound shabby, but it makes all the difference. The fall air has everyone building–fixing a leaky roof, building a shelf, installing a new wood stove. The feeling of fall gives me energy, makes me want to hoard food and chop wood. But this year it scares me as well because winter is coming, and being able to clearly imagine being finished isn't enough to keep me from feeling uneasy when the air starts feeling cold.
Today, however, it is warm, hot in the sun, and I almost feel like the summer will last forever because I'm going to be finished by the end of the summer, damn it, and it sure feels like it's taking forever.
Two weeks ago I was still riding high on having installed the new window with Bean (which is only partially pictured here but you get the basic "this is what it looked like two weeks ago" idea):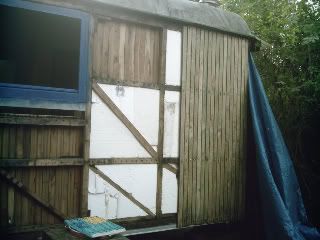 Now I have re-sided the right side up past the window…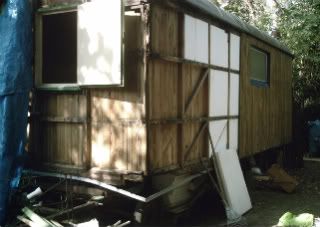 …and am ripping boards off of the left side to use to finish closing up the right.
Nothing has really changed on the inside, except that when it was raining one day, I started sanding the paint off of the ceiling. What a pain in the ass. Now everything is covered in white dust, and my arms are starting to look like Popeye's.
Once I finish siding the right side, things will move very quickly. I don't have enough intact original boards to do more than one side, so the rest of the siding I'll buy which means 1. no sanding and 2. fast fast fast! (because the tongue and groove boards at the building supply store are twice as wide–rumor has it that you can only still buy small boards like mine in France). Then all that will be left are the roof (crap) and the floor (less crap), sanding the ceiling (ouch), painting (yey!), building a bed and shelves (woo!), and moving all my crap. !! Oh glorious, glorious day.
*The title means "Hammer, saw, sharp teeth" and is the name of a German children's building lexicon that I bought at the flea market last week.