half-timber country house wood stove porno
Across a late-summer bonfire a friend once unraveled an interesting theory. "Television has replaced the fire as a central point of social contact and meditation in our culture," he said. "People are attracted to the flickering lights of television because they are instinctually reminded of the flickering light of the bonfires that humans have sat around for centuries."
Sitting in front of an open wood stove fire in a half-timber house in middle-of-nowhere southern Germany, the flames framed in a black metal square not unlike that of many of the televisions I have known, I think that he might have had a point.
I can stare at a flickering fire for hours, and it offers a meditation not unlike dreaming. Looking into the fire my mind flits from one thought to another: from a memory of last week to what I'd like to do this evening to the meaning of a particularly interesting sentence in a book I've just read. Like a long nap (filled with dreams that flit from one image to the next), this brings me a feeling of having rested. I have read that "the mind needs boredom," and I think this is what is meant. Not boredom, but rest. Not monotony, but time to organize things within itself while the eyes, too, are kept occupied and entertained.
Television, if replacement it is, replaces this experience with one, for the most part, designed to allow the brain to completely shut down. Of course you can occasionally learn something from a television program or a movie, but the most prominent factor in television (and, I'd argue, probably part of its wide appeal) is that it allows us not to think at all. Instead of taking the time to let our minds wander and to process our thoughts during our down time, we confront it with more colors and pictures and information. My instinct tells me the replacement has not been an adequate one.
Now, think of those flat screen tvs you've seen at the store merrily playing a tape of a recorded fire and—behold!—a combination of the worst of both worlds. It is television without a hint of intellectual stimulation and fire without its heat. Watching fire on a television screen is one of those things that send a feeling of hopelessness for the human race plummeting deep into the pit of my stomach.
But I digress. This weekend I was not confronted with one single television as the Beard and I fled to the German countryside in order to hide from the battlefield that is an urban German New Year's Eve. Though some local inhabitants celebrated with firecrackers on the neighboring castle ruins, the attempt to ignore the holiday entirely was largely successful, and we spent three days in a place I might consider calling my dream house if only it were about one sixteenth its current size.
A restored half-timber beauty that sleeps away the time between the owners' visits in a old, tiny village; heated by two beautiful, gargantuan wood stoves; and embellished with beds and mattresses to sleep at least 25, it's a dreamy place to spend a winter week. Sitting in front of the fire, I daydream about living somewhere like it, though I would be quite satisfied to just have the living room with the open-fronted wood stove and the basement where the wood and the sauna live.
So, without further ado, some purdy country house porno for your enjoyment. Oo la la.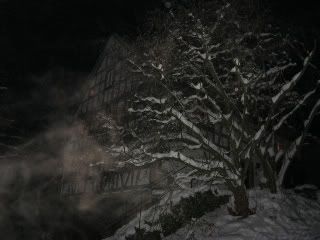 The house as we arrived. I'd be happy with a place about the size of the shed across the street.

An extension of the kitchen. Apparently some kind of food prep/serving prep room. I heart kitchen utensils hung on walls. Decoration meets practicality. Everyday objects as art.

The gorgeous, gargantuan wood stove in the great room/dining room.

The back of the gargantuan wood stove, which is accessible from the hallway behind the great room. Swoon.

The second living room with its open-faced wood stove. (Also pictured blazing at the top of this post.)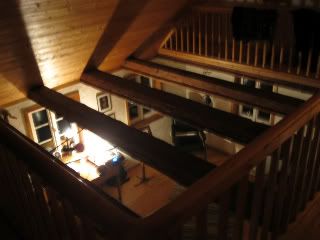 View down into the great room from the loft above it. Warmest place in the house.

View from the living room window of the neighboring castle ruins.

Castle ruins and previously mentioned shed from the road.
Someday I will live on a wild bit of land in a building as charming as this half-timber (or perhaps in my already charming wagon) and as small as that shed. A house that big—unless you're planning on filling it with 10 children and your entire extended family—is a waste of resources and money that, if you didn't need it to pay the heating and maintenance bills, you wouldn't have to bother working to earn in the first place. Amazing a place as that house was to spend a couple of days with 10 people, who wants to clean a place that size on a regular basis? But ooh-wee were those wood stoves purdy.