gorilla parent: the bilingual baby experiment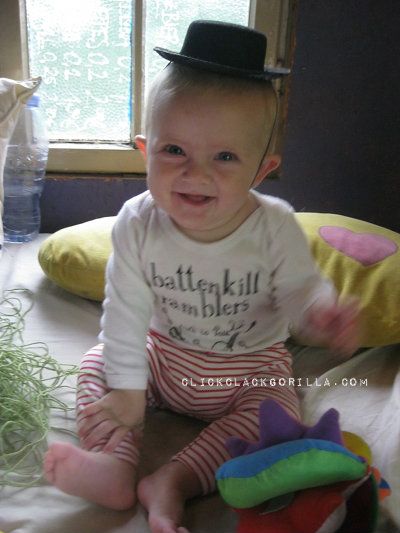 So we live in Germany. I am American. The Beard is German. Watching a little person learn two languages at once is one of the things I have looked most forward to when it comes to baby making and raising. And here we are.
From the very beginning, from Baby Pickles' very first minute outside of my belly, I spoke English with (to) her. The Beard speaks German with (to) her. This is what linguists call the one parent, one language style of bilingualism. Some people do one language at home, one language outside. Some people do one language in one country, one language in another. There are about as many styles to bilingual parenting as there is sugar in Willy Wonka's candy landscape.
However, the Beard and I speak German to each other, and we will continue to do so. Theoretically, when Baby Pickles joins in and speaks German in these conversations, I will answer in English. Then again, some folks propose a "whoever starts the conversation choses the language used" principle, but as I don't really like speaking English with the Beard I can't imagine implementing that. It all sounds very complicated, not to mention the fact that I am not very good at constant language switching (though I am a bit better at it already, after seven months of practice).  Who knows. I think the key, like everything else when it comes to parenting, is to remain flexible.
As the only person in Pickles' direct surroundings who speaks English, I'm figuring on having a lot of work to do to make the language interesting. I don't want it to someday just be some stupid language that mommy speaks. So I'm looking for English-speaking play groups, and you don't even want to know how many kids books we already have (in part because I love to collect beautiful kids books, which I of course do in English). Not to mention the fact that we almost only watch movies in English. I figure the more people she meets who speak English, the more situations in which it is useful to her, the more the language will come to mean to her. If she has English-speaking friends, then the language's value to her will become more acute. And of course there will be trips to the States. What I really, really don't want is for us to visit and for her to be incapable of communicating with any of her American family.
I'm already bracing myself for the fact that Pickles' strongest language is not going to be English. I mean, maybe she'll be great at it, but with the resounding influences in her life in German, with German schools and German neighbors and, well, Germany everywhere around her, I expect that she'll excel in that language more so than in English. And it totally blows my mind. How could I create a child that doesn't even speak my native language? Immigrant parenting is a whole new mine field of wonder.
Are any of your raising bilingual kids? What has it been like for you so far?