gorilla mama: when your partner is off on tour with the band you're not in together aka project meltdown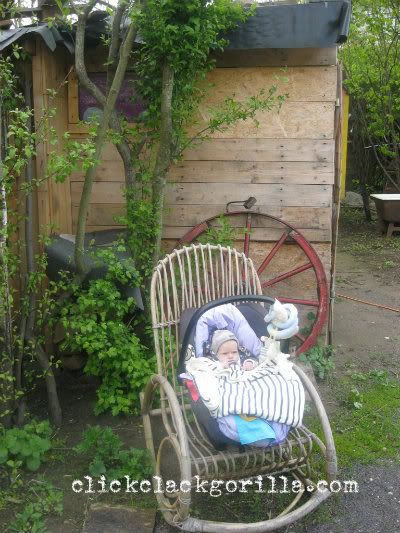 Eight days.  It doesn't sound like a long time, and it didn't sound like a long time when, while still pregnant, the Beard asked me how I felt about him going on tour with one of his bands for eight days when Pickles was about three months old.  "Fine!" I said.  "Shouldn't be a problem.  I mean, who knows, but why not?" Ha!  Hahahahahahahaha!  Yeah right.
Now I know that five days is my approximate limit for single parentdom of a three-month-old baby.  On day five I have nothing left, so when Pickles chooses day five for an hour-long screaming marathon, I am this close to completely losing my shit.  But it is a perfect example of the "it takes a villiage" principle.  Instead of starting to scream at the top of my lungs and flail around on the bed myself, I took Pickles over to my neighbor's Wagen where two of my friends were relaxing.  They hadn't been with a baby non-stop for the past five days or just spent an entire day counting the minutes until Saturday.  They had patience for some screaming.  They were well-rested and had done many things involving two hands throughout the day.  I passed off Pickles and went back to my Wagen, where I finally did throw myself on the bed to squeeze out a few tears and talk to the Beard on the telephone.
It only strengthened my resolve to give all single parents total ultimate hero status.  Seriously, how do you people do it??!?!  You are amazing, and I bow down in humble awe of your abilities.  Where do you find the patience?  How do you deal with the fact that after an impossible day, you still don't get a break and have to get up again the next day and keep going?  Have you even brushed your teeth in, like, years?  May the universe shower you with wealth and attrative, loving partners, and rainbows and kittens and eternal happiness.