gorilla mama: the first month with baby pickles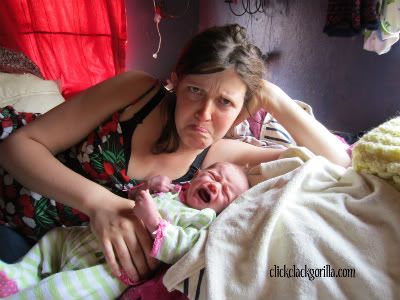 Having a baby is liking being given a gift.  Not in that "oh she's my little precious angel sent from heaven" sort of way (though, shit does having a kid make you cheesy), but in a totally new, "you are now in possession of the most accurate and effective bullshit detector ever invented" sort of way.  Life is, at least at the beginning, reduced to the basics—eating, feeding, trying to (and too often failing at) drink enough water to keep up with both hydration and milk production, sleeping, sleeping, and sleeping.  And what that means is that suddenly it is really easy to spot even the most subtle of bullshit.  Priorities become stunningly easy to identify, and crushing those that set off the bullshit detector under your mean little toe becomes even easier.
On a slightly related note, I have also happily realized that having a kid means I will never be required to be social again.  (A point also very hilariously expounded upon on here.)  When did I become such an embittered hermit?  I used to, like, enjoy being social and going out, didn't even particularly like sitting at home alone.  Now I just want to be left alone with my book and/or computer, and I don't often bother to hang out with anyone I don't already live with.  Though given that I live with seventeen people, maybe I'm not a hermit after all, just incredibly lazy.  Hmm.
My days are a lot different than they were pre-pregnancy, though they aren't so very different from when I was waddling around with a watermelon stomach and spending most of my time in bed.  Except now I rarely have two hands free to type when I'm hanging out in bed, my waddle is improving daily, and the baby is busy giving me hickeys.  And I get up a hell of a lot earlier.
Mornings start around six or seven, when Pickles decides that being awake is more interesting than being asleep, and I attempt to keep her astoundingly loud gurgles and sighs and grunts quiet(ish) so as not to wake the Beard, who needs to be well rested so that he can bring me breakfast in bed while Pickles is breakfasting in bed; light the wood stove and chop wood, and make kindling; and do yet another load of laundry—all while I do what to the untrained eye looks a lot like laying around on my (miraculously shrinking) ass, but is really more like being a one-handed waitress/juke box/milk factory/mattress in a who-can-stay-still-the-longest contest.  Sometimes Pickles drinks enough of the knock-out juice to sleep for another few hours, and sometimes we hide out in a blanket tent cooing at each other until the Beard finally does wake up and the daytime diapering/playing/sleeping/nursing marathon can begin.
The good news is that we're still getting a (relatively) lot of sleep.  Also: that she's starting to look friendlier (less Stewie, more laughing and smiling), she doesn't scream during every diaper change, my wrap carrier is fucking amazing, I've gotten really good at putting her in prefold diapers, I'm still not annoyed by the amount of laundry maintenance that using cloth diapers requires, and I no longer walk like a duck.  The bad news is that she screams through every minute of every car ride and bath.  I don't understand how a person who spent nine months in warm water and was sired by someone who would spend all day every day lounging in saunas and heated pools if she could afford it could not like a hot bath.  But then again, she was also sired by folks who don't bath that often themselves.  Go figure.
further reading
In case you, like me, are trapped in a position for most of the day that allows you to do little more than read, I thought I would tell you about two of my favorite recent internet finds.  The kind of internet reading that has you going back and reading entire blog archives it's so good.
Mother Load…This is a blog on Jezebel written by Tracy Moore, an absolutely hilarious and talented writer who had me at "How I Learned to Stop Worrying and Love Pooping During Childbirth."  I spent an afternoon reading everything she'd written in the Mother Load series, and I laughed (out loud!) (multiple times!) during every single post.  I have no idea if I would have found it funny pre-Pickles, but now, wow.  Excuse me while I go stalk everything else this woman has ever written.
Feminist Breeder and blue milk…There is a whole world of feminist mama blogs out there that have been making my mornings with their dearth of product reviews and giveaways and their wealth of intellectually stimulating discussion of feminist issues related to motherhood.  These two blogs are my favorites so far.  And Feminist Breeder is written by Gina Crosley-Corcoran who used to be in Veruca Salt, which earns her extra punk mama points.