goodbye lazy dumpster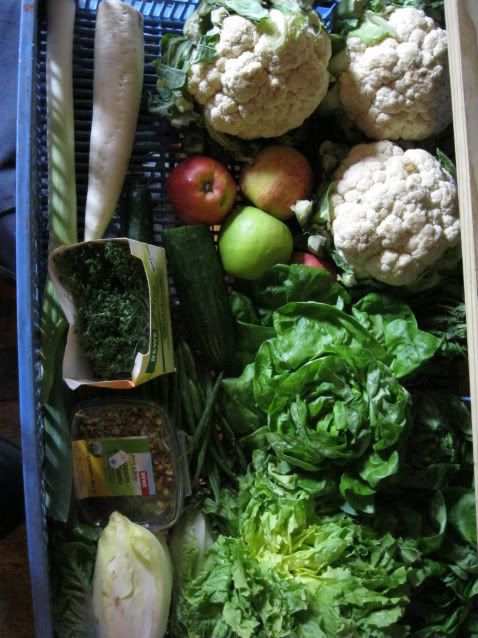 I have to admit it: I haven't been dumpster diving for food in a long time. Winter showed up and signaled the end of my bike riding season. (I need a bike for hauling stuff with mountain bike tires. My tiny racing bike wheels suck on snow and ice.) Cold weather meant fewer folks willing to come along for the ride. And regular employment means I can buy food at the farmer's market or sometimes even (gasp! can she really mean it?!!) inside of a grocery store.
Nope, I'm not 100% freegan. In fact, I'd have to say I'm not 100% anything. And as far as I'm concerned any dogma so strict it requires some sort of 100% participation or that speaks of "purity" is a dogma on its way to join the Third Reich.
Shopping at the grocery store means a short walk to a tiny store about the size of my wagon, with a man behind the counter who puts aside his older produce for the Beard and I. Once his lettuce starts getting wilty or he realizes he's not going to be able to sell all of the mushrooms before they go bad, he packs them up in a bundle for us. He can't stand to throw vegetables away that are still edible, he tells me as he hands me a garbage bag full of lettuce or a pile of Turkish flat breads. He knows we don't have a lot of money, and as the Beard and I both occasionally cook for the vokü* in the house at the front of our Wagenplatz (aka shop to feed 20-40 people), we're also good customers. I like him, and I like supporting his shop, just as I like supporting the farmer's who have given me sack after sack of their unsellables over the years.
My capitalistic tendencies aside, I was getting to feeling a bit silly for not having dipped my ladle into the coffers of dumpster abundance in so long. Then the dumpster gods sent me six packages of raclette cheese via the dorm trash corral across the street, and I knew it was time. I gave myself a good hard kick in the ass, Peanut and I biked off into the sunset, and the booty was as glorious as ever.
The vegetables pictured above were about 1/3 of the bounty (there were more than a few meals between our dumpster run and this photograph). We also hauled home two enormous bags of baked goods that turned out to be full of coffee grounds and potting soil that employees had dumped into the bags to ruin the spoil. Other bits turned into the most delicious stuffed peppers I have ever wrapped my lips around and a pitcher of fresh-pressed juice that turned everyone who drank it into a superhero for ten minutes.

Mmmm. Stuffed peppers. All hail the mighty dumpster!

A juicer is a key tool for dumpster divers. Makes using up all the booty before it turns much more manageable. I got mine from e-bay for 3 Euros. Adding cucumber or bell peppers to the mix gives juices a nice fresh kick.
*Vokü is short for Volksküche or "people's kitchen." It's a bit like Food Not Bombs, except it takes place indoors at a frequency determined by those available to cook for it. Vegan and vegetarian meals are sold for about 2 euros a plate. It you're traveling through Germany on a tight budget, I'd recommend seeking them out. If you're flat broke you can usually get a free meal in exchange for helping out.