goodbye hamster blues
My usual Saturday ritual involves walking through the flea market down the block and returning cans to the grocery store in exchange for juice and noodles. But today, revived from sickness by a fulfilling night of fancy cocktails and fancier dresses, today was lumberjack day.
Above: The country ghetto woodshed, built out of old pallets and metal siding, found in the trash. Pirate flag, found in the woods outside of Limburg.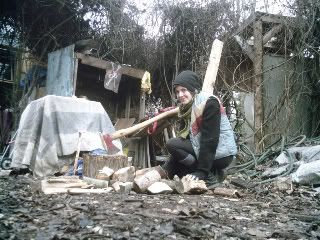 Imagine if all the people who belong to gyms traded in their memberships for a wood stove and mighty lumberjack shoulders. I think that, in some small way, the world would be a better place.
Happy Saturday.