going to mülheim (zinefest 2009) part the second
I couldn't find my way out of the fucking shopping mall, the exits had been closed, there was no way out, any minute security guards would come up behind me to drag me away and I would die here, in a tiny windowless room in the basement of hell.
I like to delude myself into believing that malls are an American phenomenon, that they don't exist in jolly old Europe. But just like McUgly and Starfucks, they are here, they are everywhere, they are even popular, with a distrurbing number of people. The smell of fast food, the crowds of people gathered here together to push each other out of the way of That Hot New Thing they want to buy, the stale hot air–it makes me nauseous. But there was the sign for the train station, there was the exit, the door, I went through it, there was air, sunlight, space, I was Out and Away.
I didn't know where the Autonomes Zentrum actually was. Tallbike and I had meant to come together, but it hadn't worked out and I hadn't bothered with directions more detailed than "go to Mülheim." Look left, look right, nothing but some trees, a post office, and some houses over a big road off over there. A guy sat on the sidewalk with piles of records beside him. He had a beard and round gold-rimmed glasses and looked like the kind of guy who would know where the AZ was. He did.
"Sure I can give you directions," he told me, relaxed, "But why don't you sit down first while I finish this cigarette."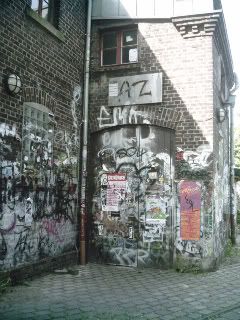 I didn't want to sit down. I wanted to get away from the train station and the copy shop. I wanted to see the AZ. I wanted some water, some lunch, and some beer. But since I didn't know how to get to the AZ I sat down anyway, and Bearded Record Guy gingerly took each record out of the canvas bags he had with him to show me. He was on his way to a friend's house to make some mix tapes. "You ever heard of *insert band name here*?" Nope. No, haven't heard of that one either. Nope, nope, nope, nope, not that one either. No, don't roll your fucking eyes. What do I listen to? Oh I don't know, umm, yeah, well, lots of stuff. Right now a lot of hardcore and some doom and old time country. Haven't heard of the three bands I manage to remember that I like? Oh well, I guess you better keep name dropping then, nope, haven't heard of that one either…
Why does almost every "we just met so let's name drop bands we like" conversation end up feeling like a god damn pissing contest? Why does every "we just met so let's name drop bands we like" conversation leave me feeling like a complete fucking idiot? Oh right, probably because quite often these conversations are pissing contests, probably because I am terrible at remembering names–band names and people names alike–and probably because the person I'm talking with always ends up saying something like "I can't believe you haven't heard of *insert random band name here*" and/or rolling their eyes and/or not understanding why when they ask me to list a few bands I like my mind goes completely blank and all I can manage are a hanful of stutters and shrugs. I used to do college radio. If there is one thing college radio is good for, it's developing a fine-tuned hatred for music snobbery and band name dropping. Then again, snobbery is always fucking stupid, so there.
Finally Bearded Record Man gave up and gave me directions, and I walked off to the AZ and zinefest aka glory glory hallelujah just look at all these zines. (!!!)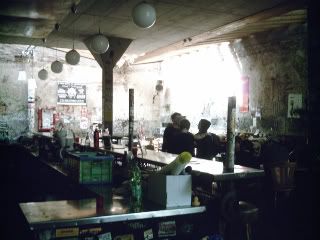 The AZ Mülheim was a riding center once upon a time, the locals told me. People strutted around on their ponies in the hall where we moved the zine market when it started to rain, horses were bought and sold and combed and fed in the rooms where we ate breakfast and drank beer and learned how to bind books. From the outside the building is big and brick, graffiti- and ivy-covered and my-kind-of charming. From the inside it's cozy as well, with lots of big spaces for concerts and pub nights,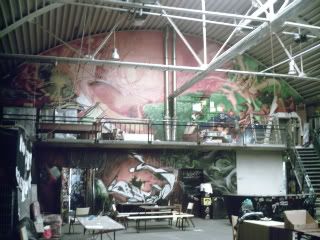 and even more little spaces for lectures and meetings and sleeping and cooking and freeboxes and an internet cafe.
There were ten, fifteen distros/stands/zine writers with boxes full of fresh-off-the-photocopier creations set up in the courtyard (pre-rain) trading and selling and chatting. The zine writers with music projects played, there was a lecture about the history of zines given by a man from the German Youth Archive (which I didn't attend because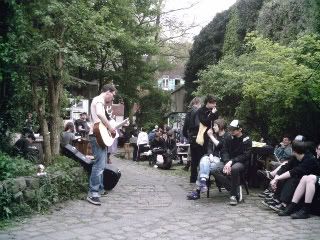 it makes me feelpretty sad when living, breathing, beautiful things get intellectualized/lecturarized/power point presentationed before their Time). I missed the book binding workshop to man the distro (now featuring fancy cut up cardboard boxes and dumpster puke-green curtain/tablecloth!) but intend to kidnap someone from NC to teach me that this summer anyway. There was cheap vegan food (mmmm) and a table with typewriters and scissors and glue for creating a page for this year's
zinefest zine. There were people skateboarding around the hall, people dancing, people talking, and Bearded Record Guy even showed up to say hello and act kind of creepy.
By the end of the night I was burnt out, happy, over- whelmed, and in need of a long sleep and a long time for processing everything I'd seen and heard and read in the past six hours. I had a huge pile of traded zines to read and no ear-plugs to block out the techno/dance music thumping away
at the bar downstairs. But I feel asleep all the same, visions of photocopied print and typewriter-witten pages whirling through my head.
Sunday was three servings of a delicious breakfast, was adding a page to the zinefest zine, was quiet and relaxed, and we dragged sofas into the courtyard for a reading, and, excepting the woman who arrived with an aloof hipster posse and read from an actually published book, got me interested in a few publications I had been too overwhelmed to notice the night before (Sofakartoffel, for one, if you ever see her stuff, it's grand and in English and aestetically pleasing to boot). Panzer Fee (pictured) recited a few poems, two boys played accoustic guitars, I read nyc from my zine, and a handful of others read from theirs (whose names I can't remember because my brain is made of Swiss cheese). Slowly groups of people trickled off to Home and Tallbike and I slung on our backpacks and headed for the train, a box full of photocopied treasure to page through on the way back to Mainz.