gobble gobble gobble GOBBLE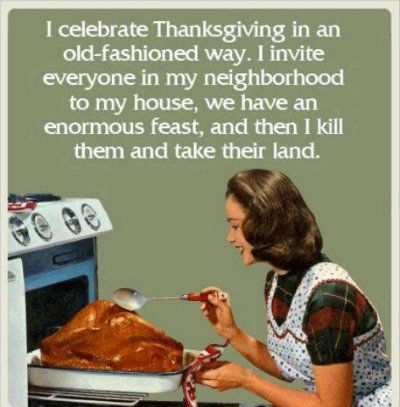 Today a bagillion people in America are celebrating a holiday called Thanksgiving.  I imagine that most of you are familiar with the custom.  Family gatherings, heaps of food, turkey, weird combinations of sweet potatoes and marshmallows, and pie are all key elements.  It's a good time (I like family and I like food), but it is an incredibly fucked up holiday.  See above graphic (which by the way, I pilfered from facebook and haven't a fucking clue who to credit to…so if this is your picture, let me know so I can write in big capital letters what a frickin genius you are).
In American schools they teach you that Thanksgiving is this happy-go-lucky holiday that started when the settlers (cough colonizers) and the native Americans had a big happy feast and became bffs for ever and ever and ever and ever, sunshine and kittens and lollipops for everyone!  But OH WAIT.  Didn't the same settlers actually then spend the next hundred years SLAUGHTERING those people and/or making their lives miserable and ignoring every treaty ever made with them?  Hmmm.  Something just doesn't add up here.  I think this Adams family video says it quite nicely:
For me the holiday has become a time to remember all the fucked up shit that went down to make America what it is today. It is a day to remember the true stories behind the historical myths we tell each other. And it is a day to eat a lot of damn fine food. This year I'll be celebrating on Sunday with a group of lovely ladies who I like the think of as the Anarchist Expat Ladies Club.
Hanging on Thanksgiving's coat tails is a tradition come holiday that is equally, perhaps more, sickening: Black Friday, the day when the Christmas shopping season officially kicks off. Because retailers just can't get enough of the profits that a day of shoppers foaming at the mouth and beating each other off with sticks over the day's sales produce, they are doing a kick off on Thursday, right in the middle of Thanksgiving feasts everywhere. Which means that the one decent part of Thanksgiving (spending time with your family) is getting beaten back with a cash register.
I think that Lindy West said it best on Jezebel: "Long, long ago, in a time known as the '80s, Black Friday sales started on a day called 'Friday,' at an actual hour that an actual store might actually have been open—say, 8 or 9 or 10 am. Over the years, the kick-off hours have been slowly rolling back—to 3 am, 4 am, midnight. And this year, stores such as Target, Walmart, and Toys R Us plan to start their Black Friday sales at 7 or 8 pm on Thursday, smack in the middle of the Thanksgiving dinner hour. Because fuck your turkey, MEN'S POLAR FLEECE MOCK-TURTLE HALF-ZIPS ARE 60% OFF. Get ready for Black Friday Part Deux: Black Thursday: The Legend of Curly's Pulverized Ribcage. I am not following any of this. Can someone explain it to me, slowly and using small, nonthreatening words? Please?
"Now that Black Friday isn't even on Friday anymore—now that it's Black Thursday Night and Black Fuck Your Thanksgiving and Black Ha Ha Pitiful Wal Mart Slaves You Have No Family!—what is the point of it, really? I mean, hey, I have an idea! Why not just start Black Friday 2013 on the day after Black Friday 2012 and we'll call it Black The -Entire-Year and everyone will get so many savings that Santa Claus will rise from the dead and do everyone's taxes!!!!! Thanks, capitalism!"  Her entire commentary on the subject is priceless, so go read the entire article post haste.
Walmart workers are striking and protests are being organized (a favorite is to go to a store and walk around slowly in circles with an empty shopping cart, best case scenario, in a really big group, congo-line style, in order to disrupt the shopping hell, oops, I mean extravaganza).  I would say that I was protesting the event with a buy nothing day, but I buy nothing all the time, so it doesn't feel like a spectacular statement.  Are you protesting Thanksgiving or Black Friday in some way?