gender schmender: babies and gendered clothing
"Is it a boy or a girl?" It's a question I am asked a hundred times a day when I leave home with Baby Pickles. At first I wondered why gender was so important to strangers, but then I realized that really, if you want to interact with a parent and baby there really are only a few not-super-personal questions open to you.  It's a perspective that makes the constant chorus of "boy or girl?" a little less irritating.
Still, babies' gender is inordinately important to a lot of people, many of them parents.  I've seen people at the flea market   look at a jacket, ask "Is this for a boy or a girl?", and then, when the item turns out to be "for a a boy" when they are shopping for a girl and vice versa, they say "Oh no, never mind," and walk away. But, wait. Couldn't they have decided if the little girl or boy in question (or that child's parents) would have liked the jacket, just by looking at it?  And jesus shit, baby boys can wear pink!  Baby boys can wear dresses!  Baby girls can wear blue!  You know why?  Because a baby's gender is irrelevant.  (And can't we get past this whole rigidly gendered clothing thing anyway?)  Unless you're a doctor, or the person who has to figure out how to keep all her nether parts clean, then whether that little pickle is a boy or a girl, is in red green blue pink orange biege or purple just doesn't fucking matter.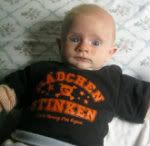 Left: "Mädchen Stinken," or "Girls Stink." Though I suspect this shirt was intended for boys, I think it's absolutely hilarious on girl babies particularly. Because even though babies mostly smell like caramel and amazing, they poop their pants and get spit-up milk stuck in their cavernous neck creases. Girls stink, indeed. A fifty-cent flea market find, by the way.  And while we're on the subject, I've actually had someone tell me "You can't put a baby in black!"  To which I replied, "I like black.  And I'm the one who has to look at her all day.  She doesn't care what she has on."  And when looking back on it, I still can't figure out why they even cared.

If you are interested in topics of gender, particularly when it comes to children, then you probably have already heard this, but for the rest of you, guess what?! Apparently, it was in the 1940s that pink first became a "girl" color. Before that, it was considered a "boy" color. Fun facts that make the whole hullabulloo about gendered colors in children's clothing seem even more insane. At the very beginning of their lives, babies can't see much color anyway. They can pick out contrasts, like black on white, but little else. So what the fucking fuck? How did this happen? Why do so many people care so much?
Historian Jo B. Paoletti, author of Pink and Blue: Telling the Girls From the Boys in America has this to say in an article on SmithsonianMag.com: "It's really a story of what happened to neutral clothing. What was once a matter of practicality—you dress your baby in white dresses and diapers; white cotton can be bleached—became a matter of 'Oh my God, if I dress my baby in the wrong thing, they'll grow up perverted." And of course at the end of the day it mostly comes down to marketing. "The more you individualize clothing, the more you can sell," says Paoletti.
Right: The shirt reads, "I am the King," another one that I'm pretty sure was intended for boys, and a flea market find and present from Frau Doktor. I think it's cute on either sex. Lions and stripes! Awesome!  And blue looks great on babies with blue eyes, regardless of what they've got in their pants.
Also important to remember, when trying not to get swept away by the flood of gender-specific baby marketing, is that not only should a babies' gender not matter to you, but that it doesn't even matter to them. "According to child development experts," continues the article, "children are just becoming conscious of their gender between ages 3 and 4, and they do not realize it's permanent until age 6 or 7." So tell me again why we're worrying about this?  As far as I can tell, the only time when the gender of one adult should matter to another adult is when said adults are contemplating sleeping together.  Which pretty much rules babies out of the equation.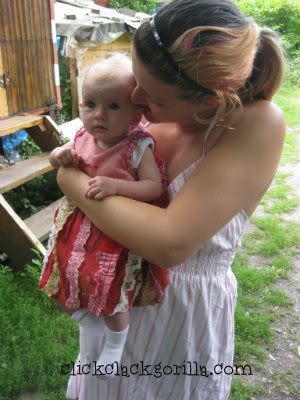 Left: Baby Pickles loves wearing dresses when it's warm.  Mostly because dresses mean that there is a bunch of free fabric for her to grab onto and jam into her mouth.  Though I have to admit, she almost looks weird to me in such obviously gendered clothing.  Another fifty cent flea market find.
A few weeks ago I was on a bus in Mannheim, Germany. We were on the way to a concert, and Pickles was sitting on my lap. A woman with two children of her own struck up a conversation. When she asked, and I told her, that Pickles was a girl, she replied, "Well she doesn't look like a girl." Well shit. Must have been the blue cap. Or was it the red striped pants? Or, wait, the white top with the purple and yellow flowers on it, that must have been it. When she's wearing a cap, people almost always think she's a boy. And yet, adult girls wear caps all the time, so there really is no reason to view this little scrap of clothing as gender specific. And yet. And yet! *Rips out hair.*