franken-shed
What I've been doing the last few days is building this, Franken-shed, new home to my winter wood and summer kitchen. From the back (it still needs a few more boards so the rain can't get in):
I can't get a good shot from the front (tree and other wagon in the way), so here is a close up of the right side: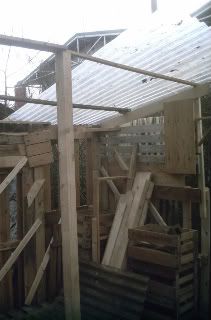 This is the kind of building that I like. Chaotic, like putting together a puzzle with a hundred different possible end results. In this case the puzzle pieces were about seven pallets (hauled here in several loads on a hand cart from the enormous university trash corral), two wood shelves (from the across-the-street trash), some beams I found lying around the platz, an old bench, and a bunch of other scraps with origins unbeknownst to me (some dumpstered at the building supply store, some found just lying around). Except for the screws (which I borrowed from a neighbor) and the tools (borrowed from another neighbor), it's a 100% trash house.
The minute I finished building Franken-shed, a wind storm came and ripped off half of the roof. The now-missing part of the roof had only been temporarily attached because I needed one more piece, and where there were no grommets under the screws there is now no roof at all. (By the by, the grommets that are attached to the remaining side of the roof are beer bottle caps, an idea I was especially proud of having when I discovered that I had no grommets at all.) One piece fell straight down to the pallet floor, but the second piece has disappeared. I imagine myself taking a walk a week from now and discovering it somewhere absurd and improbable, stuck high in a tree somewhere in the next town over.
The wind shook the red wagon all day, a three-story-tall pine has been ripped out of the ground, and there is an enormous garbage can in the middle of the street. As the doors to the trash corral are closed, I like to think the wind picked up and tried to send it to Oz, but settled for building a barricade when it realized taking a paper collection bin all the way to another dimension was much more work than it was worth.
When I walked across the street for my I-start-work-in-two-days shower, I jumped up and down to see if the wind can move my weight. It seemed like it did. I giggled and jumped again and giggled and jumped. Over breakfast this morning Cabbage told me that highways and train stations were closed because of the debris that had blown onto their tracks and lanes.