euphoria descends
I have started moving things into my wagon. Euphoria has descended. I have grinned like an idiot. I have sighed like a love-lorn princess. I have hopped up and down while clapping my hands. Pictures have been taken. Objects have been moved from one wagon to another. Exclamation points and cartwheels have been handed out in abundance.
The moving-in chaos: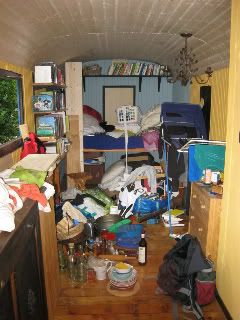 Now, at the end of this long gauntlet, I find myself reminiscing fondly. "Remember that time it took eights hours to dig out the wheels, and another six to pull it out of that little garden plot??!" Or not so fondly, as the case may be.
Now I lay on my bed and ask myself, can this really be the same structure? Can I really have done all of this work myself? And if I did, are the walls likely to cave in at any second?
More practically, I have also found myself wondering how much money the whole project has cost me. So, for the detail oriented, here's a breakdown (in euros):
Cost of the wagon: 0
Cost of wagon transport: 75
Hippy insulation (eco hemp insulation): 123.30
Building supplies, tools, and the decadent
light fixture I bought myself for my birthday: 455.84
Building supplies that I probably bought and
then lost the receipts for: 200 (possibly a bit less, at that point I was dirt poor)
What all of this detail mongering means is that I "bought" and completely redid a house for just under 900 euros: a lot considering my dumpster ethic, and nothing at all when I remind myself that I used to pay 300 euros each month in rent on an apartment that was smaller than said "house." *Opens self-congratulatory bottle of champagne and tips decadently over head.*