tragedy in esslingen
The word Gleisersatzverkehr is an important word to know in German. It means "hahaha, your train isn't coming and this trip is going to take a lot longer than you thought."
No internet the night before had meant no train schedule, but when I arrived at the station the first thing I saw was the train heading to Worms. Worms was on the way to Mannheim and so was I, so on I got and off we chugged.
The car was mostly empty, just me and two women with bright purple scarfs wrapped around their heads. I couldn't see them but I could hear them. According to her, Woman on the Right was a prophet, "But I'm not a god, I'm not a god," she said firmly. "It came to me in a dream." I wished for a working tape recorder, (You hear that dumpster gods?) or at least for a pen. I settled for memory, which, against all odds, managed to record at least those two sentences. Prophet indeed. At least, I thought, if a conductor comes to check tickets, the prophet can perform a miracle and I can escape to freedom. Stranger things have happened.
Actually, I wasn't really on my way to Mannheim. I was on my way to Esslingen via Mannheim, where I could trade in my train seat for a seat in a green (former) police van. I sat in the park while I waited for the Gunmob to show up, attempting to read Despite Everything, but mostly just staring into space and trying to avoid looking at the teenagers dry humping on a bench across the grass. Meanwhile, the Gunmob was breaking into the courtyard where their van had been trapped by their landlords. Stupid landlords.
A few hours and sandwiches later we were all in the van, buzzing down the highway past fields and more fields until finally we wound down a steep mountain road and into little orange-roofed Esslingen, where Tragedy, Gunmob, Cluster Bomb Unit, and Murder Disco X would be playing that evening at Komma, a much-bigger-than-I'm-used-to rock-ish venue sandwiched between a canal and half-timber houses.
Vegan Wonderland sold seitan sandwiches and potato salad, which like everything they make, is delicious but never quite enough to fill you up. The courtyard filled with brightly colored hair, spikes, and white-on-black-screen-printed t-shirts eating seitan, drinking beer.
Big stages in large, half-filled rooms make punk rock unsympathetic and sad. Maybe I would have liked Murder Disco X–hardcore/punk from Württemburg, Germany–in a smaller room, on a smaller stage, but maybe not. But the crowd was still too shy and sober, and the room reminded me of the hipster indie rock concerts I'd gone to in college, everyone standing as far away from the stage as possible, arm folded across chests, carefully nodding along to the music. When Cluster Bomb Unit–more local-ish hardcore/punk–came on the crowd was getting more excited, and the band mirrored it back in their own performance. The tiny singer lady was wearing a Daniel Johnston t-shirt, which made me smile, and the big bear guitar man had dreadlocks from another dimension, which also made me smile. But like I always say: pretty good bands can mirror back an excited crowd's energy, but really great bands bring their own and shoot it out into the crown like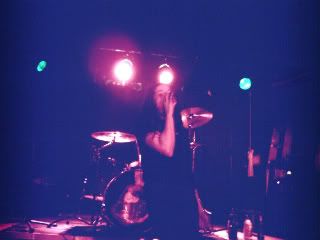 fireworks. Next up was Gunmob (pictured below)–crust from Mannheim–who in my personal and very biased opinion were the best of the openers. (You should go to their website and have a listen right now. And while you're at it, you should also listen to Planks, Slump, and BSON which involve a lot of the same people and are all really good.)
At long last Tragedy came on–hardcore legends that they are, the reason 200 people were standing together in a rock venue in Bavaria on a Sunday night. The room filled, people danced and shouted and moshed and shook their fists in the air. It was loud and laser-crowd-fireworks energetic, and they were even smart enough to only play a few of their newer songs. It wasn't The Best Concert Of All Time, but it sure was fun and after the show I found seven buttons and ten cents on the floor.