escapologists at home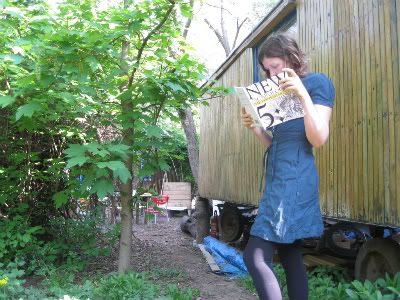 The New Escapologist!  Oo la la!  Need I say more?  No.  But it looks like I am going to anyway.
I've mentioned this lovely magazine before here, and here, after they published a little ditty I wrote in Issue 6: Against the Grain.  I continue to be inspired and impressed by their content, as well as extremely flattered at my inclusion among their pages.  As I've been recently learning through my current read Doing Nothing: A History of Loafers, Loungers, Slackers, and Bums in America, New Escapologist follows in an old and admirable tradition of magazines urging people to stop fucking working so much already, to escape from the expected.  Those new to the concept of escape can start with Issue 3: Practicalities, and once the addiction has thoroughly set in, move on to the rest of the magazine's back catalogue (at a 10% discount at the moment).  It is worth every penny.  Really.
Issue 8: Staying In is on the way, and I can't fucking wait.  Topics in what has apparently turned out to be another 100-pager include: "such homey matters as cottage industry, tea, pajamas, food, integrity, home music production, art collecting, cigars, thought, John Cowper Powys, an interview with artist Ellie Harrison, loads of great artwork, Dickon Edwards, alternative dwellings, BBC Radio's Steven Rainey, Reggie C. King, and an ominously hanging 'more…'."  The bit about alternative housing is a Click Clack Gorilla exclusive.
According to the New Escapologist newsletter, however, a small wrench has fallen into the machinery.  With Issue 8 following Issue 7 so closely, Issue 7 has yet to bring in enough revenue to finance the next printing.  So in order to make that happen more quickly they, and I along with them, are asking folks to preorder a copy, buy the back catalogue, or subscribe.  Everything is available in both print and digital, so hop hop!  Escape theory, tactic, and humor await!  If you are going to support any magazine, then this magazine is a highly worthy candidate.
If you're still a bit confused about what the hell escapology even means, then take this quote from the magazine's introduction:
"[Escapology is] about deftly avoiding the potential traps of modern life: debt, stress, unrewarding work, bureaucracy, marketing, noise and over-government.  It's about embracing freedom, anarchy and absurdity.  It's about overcoming miserliness, passive-aggression, mauvaise foi and submission.  Escapology asks you to consider the circumstances in which you would most like to live and encourages you to find a way of engineering them."
And I repeat: "Anarchy, absurdity, and freedom? Now those are three words I can live by. Tattoo them on your chest, put them in your pipe and smoke 'em, and visit their website immediately and order a subscription of your own."  The sooner you do, the sooner we'll all have copies of Issue 8 in our hot little hands.  Pretty please?