düsseldorf's jesus wagon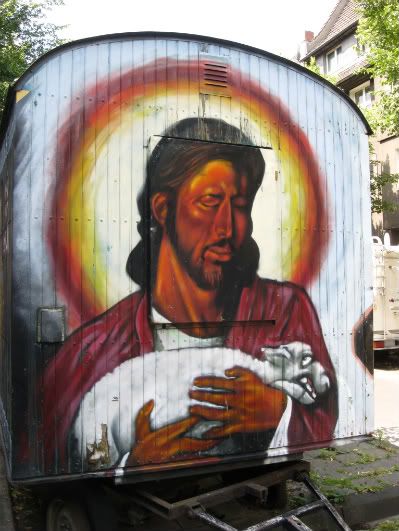 I meant to share these photos alongside the story about playing in Düsseldorf two weekends ago, but I forgot, so it looks like Jesus wagon gets its very own post.
This Bauwagen lives in Düsseldorf, around the corner from the AZ and the super pretty Wagenplatz. It is apparently used by a church and is open once a week as a sort of coffee, cake, and Jesus mission. The street on which it is parked once was a street full of squats. Now it's a street full of incredibly diversely, brightly painted buildings. One was done like a crossword puzzle, complete with clues. I wonder how often they get vandals who don't fill in their answers in pencil.