dumpster find of the week: antique shipping crates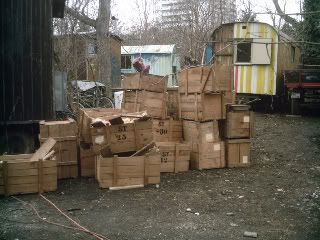 Shipping crates once upon a time used to transport artifacts from somewhere to this university's anthropology department. Now cleaned out (except for one lost tooth which Karlsson quickly pocketed) and discarded. Several crates had newspaper clippings from the 1960s inside, others bore labels reading "1935." It took two tractor trailer loads to get them all home.
Today many of the crates turned into the (until today still partially open to weather) walls of Franken-shed, and the walls of a second wood shed/fence between my future wagon spot and the house garden. In their new life, the crates look like this:
Oh how I love old wooden boxes. Lovely.