dumpster find of the week: wooden wine crates
One of my favorite things to find in the trash—and lucky for me I find them there quite often—are old wooden wine crates. Sturdy and pretty in that rustic country living sort of way that I like so much, wooden wine crates are one of those things that I find so versatile and useful that every time I discover one I find myself wondering why so many people throw them away. Then again, I wonder that about just about everything I find in the trash.
I've gotten them from the Sperrmuell, I've found them in the wood bin at the university's big trash corral, I've found them next to apartment dumpsters, and they just keep coming.

My obsession with wine-crate furniture started when I was still living the apartment life. Having moved across the ocean by plane, I didn't come to Germany with any furniture. The trash quickly provided everything I needed for that first apartment, including lots of wine crates that I used to create shelves like the ones that I have in my wagon today (above). That pretty sideboard behind the crate shelf is also from the trash, by the way, and you should see the beautiful companion peice to it that a friend of mine has in her wagon. Those were a refreshing change to the endless stream of Ikea furniture I usually find.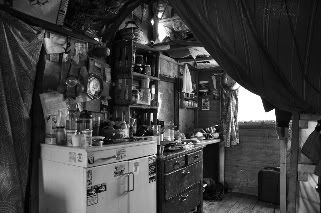 Wine-crate floor shelves can also, of course, very easily become wall shelves. All you have to do is screw them to the wall, as you can see here in the middle of this photo of our kitchen wagon. Sometimes the gap between the boards on what then becomes the bottom bit of shelf is problematic if you want to store small things on them, so I'll usually use a piece of thin board from fruit crates or a piece of cardboard to close them up.

There is a lot of space under my bed for storage, but I don't really like crawling around under there to get at it. So I put everything that lives down there on wheels so that I can grab and pull without the whole involved crawling and lifting process. This is one of them. It's also handy, me being a laptop user, to have my printer on wheels to pull over to whatever spot I'm working from at the time.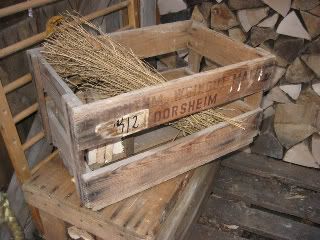 Then we have the old standby: wine crates make excellent storage containers for wood and kindling and tools in Frankenshed. If it turns out that I need another crate inside, I just wipe one down and bring it in.
Last but not least, my favorite part about wooden furniture and accouterments: if worse comes to worse, if you lose your job and the entire industrial system collapses and you're feeling a bit cold, you can always just saw 'em up and heat your house with 'em.
What have you found in the trash recently?
I'm looking for more submissions for dumpster show and tell. Take a look in your local dumpster. Take a look around your place. Then take some pictures of your dumpster booty, and send 'em to nicolettekyle (at) yahoo (dot) com with some words about where and how you found the stuff in the picture and what you're going to do with it. And for safety's sake, better put "dumpster find of the week" in the subject line.
Tell me a little bit about yourself if you'd like (I'll keep things as anonymous or blatant as you indicate I should). Tell me about your first time diving, your favorite dumpster, or anything else that seems appropriate at the time. I'll take your emails and your photos and turn them into a blog post that will show up here, one each Wednesday until one of us stops caring.
Submitting your photos and words to me indicates that you have legal rights to said pictures and words, and that you are giving me legal permission to post your pictures and quote your words on Click Clack Gorilla. If you don't hear back from me within a week, it means the internet ate your mail and you should try again.
So in the words of the esteemed Dolly Freed: "It's feasible. It's easy. It can be done. It should be done. Do it." Go dumpster diving and come home to your favorite gorillas to brag about it.