dumpster find of the week: the knives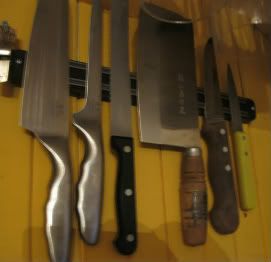 The best knives in my possession all came from somewhere in Asia (numbers one, two, and four from left to right), via the trash across the street. But the trash across the street has slowed down in recent months. Mabye it's all the rain or all the heat (or the fact that the smell of hot rotting garbages makes me vomit and I'd rather avoid it than dig in it) or the fact that useful trash there was at its most abundant when people were moving out en mass so that rennovations on one of the student housing units could start. But in its hayday, I found all of these knives among the refuse there, and took them home to lovingly slice my vegetables. I especially enjoy how scary I look when holding the cleaver, though I have to admit, I feel pretty ridiculous slicing vegetables with it.
Still looking for reader submissions…
Found anything good in the trash…lately or ever? Send me a picture and a story (nicolettekyle AT yahoo DOT com), and I'll share your glory with the rest of Click Clack Gorilla.