dumpster find of the week: the blue chair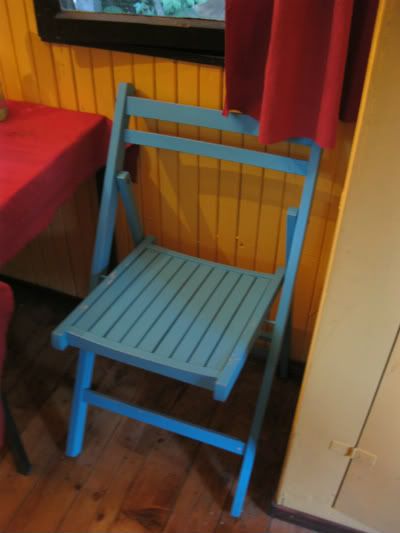 Last week I told you about Sperrmüll (big trash left out on the curb for pickup outside of the regular schedule) and the trip my friends and I took by bus to a nearby city (village is more like it) to harvest the plunder. (You can read that post here if you missed it.) And we weren't the only ones driving around. The whole city was churning with other folks in their own beat up buses moving from pile to pile to harvest what they could use and sell, many of them with lisence plates from Poland.
It's common to see Polish buses in Germany on Sperrmüll days, and a few months ago at the goEast Film Festival in Wiesbaden I went to see a film that documents the lives of two Polish men who drive something like 25 hours to come to Germany and harvest trash. It was a fascinating look at the lives of trash pickers and at the trajectory of items that many people imagine have just kind of disappeared once they put them out on the curb.
The Magical Journey Of the Useless Things begins in Poland where two men are waking up at the crack of dawn to say goodbye to their families and start the really fucking long drive to Germany to collect Sperrmüll. We follow the men on their daily rounds over about a week as they pile furniture, toys, and an antique pedal organ into their van. (They work in some sort of team with a number of drop off points and sleeping points in trailers and tiny unheated rooms, but the organization of the whole business is never revealed.) We then watch the same items arrive at a second hand shop in Poland and get sold off one by one. At the very last we see a wooden couch, rejected even by the trash pickers, get picked up by a man who hacks it into firewood in the film's final scene.
Though slow from time to time, it's a must-see as far as trash documentaries go and is pleasantly dedicated to depicting the humanity of the folks who make their living off the trash of their richer neighbors rather than focusing on the environmental aspect so often addressed in trash-related documentaries.
Which, in a very roundabout way, brings me to this week's featured dumpster find, which I found in the same run where I picked up last week's dumpstered cabinet: the bright blue folding chair that now sits beside my table so that two can sit around it comfortably.