dumpster find of the week: sideboard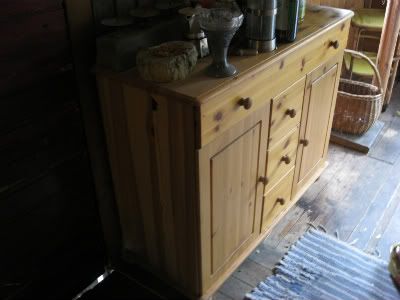 I have a nagging feeling that I might have shown you this cabinet before. But the combination of my rush to get all my posts in a row before leaving for tour (while you're reading this I'm somewhere between Leipzig and Berlin, or maybe playing music on one of those cities' streets, wohoo, peng peng!) and a slow internet connection means that I'm not going to look back through the archives to check. Fuck it, and look at this neat cabinet! Teacup and I carried it over from the trash across the street a few months ago, not sure who could use it, but certain that someone would claim it sooner or later. And the person who ended up claiming it was the Beard, for die Hölle (hell, what we call the vegan kitchen that he uses).
See, we had a mouse in one of the drawers on another shelf in die Hölle, and when the Beard tossed its drawer home, it just moved into the next drawer, and the next, and the next, until we didn't have any drawers left and really needed a new cabinet. That and the brown dresser we'd been using for years to store the produce and the baking stuff had started to get a little moldy. And the trash provides a solution just in time, once again.