dumpster find of the week: rain barrels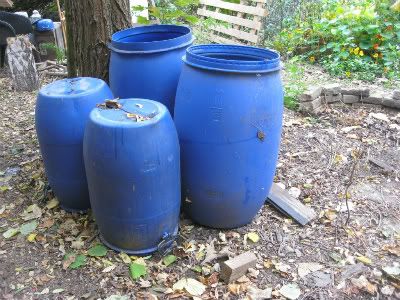 The important thing to remember when dumpster diving rain barrels is that you need to know what was in them in their former life. Because if their former contents were poisonous, then you don't want to be using them to collect water for your garden in, no siree. So in the case of rain barrels, it's good if you have a connection at the trash depot. We do, and he (high fives for you awesome trash guy) sometimes puts barrels aside for us when he knows that the contents were harmless. Some of these came from him, and some of them used to be other people's rain barrels. Who knows why they tossed them. But who knows why people toss a lot of things.
Have you scavenged anything good lately?
Read about why I do a "dumpster find of the week" series here. Or check out some of the other treasures I've pulled out of the trash here.