dumpster find of the week: montreal wino wet dream
Have I ever mentioned how excited I get when the internet—and specifically this blog—lead to interactions with real, live humans who send me words from their place in the real world? Well, if I haven't, imagine me hopping and clapping and singing and doing cartwheels, because that's how internet-born realities make me feel. As much as the internet can be soul-sucking and alienating and bad for our eyes, sometimes it actually does manage to bring people together and foster communication, the way I imagine it was intended to do. I like it when that happens. It seems hopeful. Hip hip hooray, etc.
It's submissions for the "dumpster find of the week" series that have me all a'twitch. So without further clapping or slobbering or cartwheeling, here's our first reader-contribution. If you'd like to send me some pictures and words for "dumpster find of the week," then you'll find instructions on how to do so at the bottom of this post.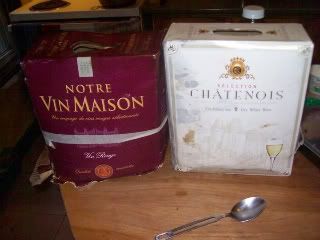 These pictures come from John, who dumpster dives in Montreal, Canada. I am always curious to hear about variations on the dumpster-dived life, and John told me a little bit about his: "I live in a communal house with four awesome roommates and one grouchy but adorable kitty cat. We have a pretty thriving little community of friends and neighbors who are all into varying degrees of dumpster diving, DIY, vermicomposting, urban guerilla gardening, and so on. I've been dumpstering for about 6 years now, originally for things like clothes and kitchen utensils, furniture etc…Then for food…I've been living almost exclusively off of dumpstered goodies since July, with a small interruption while I went traveling for a few weeks in August-September (on tour with my band, the logistics made more than a little bit of dumpstering fairly impossible)."
And here's what he told me about the origins of these lovelies in the photo: "We find things at one great dumpster which is a bulk wholesaler sort of place, selling things by the crate to restaurants and bars. One day we went as usual, and as we approached, we saw a guy biking away with a full case of (full!) wine bottles. It turned out the dumpster was full of wine! This is the sort of place that will throw out a case of 12 bottles because one broke and leaked over the rest of them. Happy day for us! We ended up with around 25 boxes and bottles of wine of various kinds and sizes. It made for two very happy potlucks with friends."
Hells. Yeah. Can you say dumpster envy? I have only dumpster dived alcohol twice in my life. The first time I found of box containing a bottle of vodka and various bottles of red wine that seemed to say: "I've given up drinking and decided that I need to cement this decision by throwing away all the alcohol in the house." The second alcohol find was in a supermarket dumpster and involved about 40 cans of champagne. I didn't drink any of it, but my friends told me that the hangovers that followed were glorious.
But even the wine, prized dumpster find as it may be, isn't the best find they've had. "Someone wrote a little informal survey there asking 'What is the best thing you found in a dumpster in 2010?'," John told me. "The overwhelming winner so far appears to be 'new friends.'"
Submissions for "dumpster find of the week"
I'm always looking for more submissions for dumpster show and tell. If you've got some sweet dumpster booty you'd like to share, then take some pictures and send 'em to nicolettekyle (at) yahoo (dot) com with some words about where and how you found the stuff in the picture and what you're going to do with it. And for safety's sake, better put "dumpster find of the week" in the subject line.
Tell me a little bit about yourself if you'd like (I'll keep things as anonymous or blatant as you indicate I should). Tell me about your first time diving, your favorite dumpster, or anything else that seems appropriate at the time. I'll take your emails and your photos and turn them into a blog post that will show up here, one each Wednesday until one of us stops caring.
Submitting your photos and words to me indicates that you have legal rights to said pictures and words, and that you are giving me legal permission to post your pictures and quote your words on Click Clack Gorilla. If you don't hear back from me within a week, it means the internet ate your mail and you should try again.
So in the words of the esteemed Dolly Freed: "It's feasible. It's easy. It can be done. It should be done. Do it." Even if we all live too far apart to share our dumpster finds with each other, we can at least ogle each other's pictures on the internet.