dumpster find of the week: boot haul, boat haul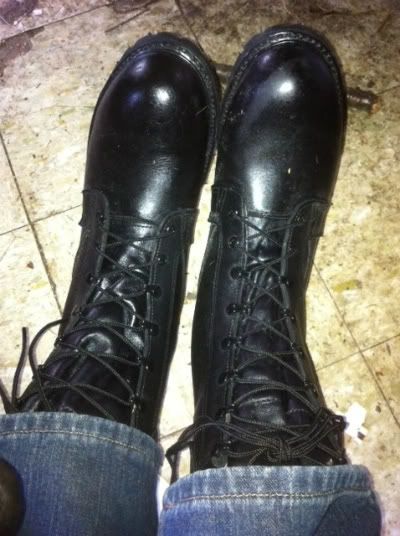 When I think of dumpster dived shoes, I think of something I once heard someone say about life in Germany after World War II. "We always had to wear used shoes," she said. "There wasn't anything else. And they always gave us foot problems because they would be worn in funny." Today she refuses anything but brand new footwear. Understandably.
Luckily the shoes to be had in the dumpster aren't always used. Although I have found my fair share that were used lightly enough so as not to cause a funky step—fashion trends inspire most folks to toss their footwear long before their print has been stamped into the sole—the first bit of today's dumpster find is this untouched pair of boots. Says T: "These are brand new boots my friend found for me. They came with a tag saying they're Intermediate Cold Wet Boots and instructing me not to become a Cold Weather Casualty!" Which is a good thing, seeing as T lives in a really fucking cold part of the world.
A few weeks later, she sent me another picture: this time an entire boat-full of goods harvested from the trash.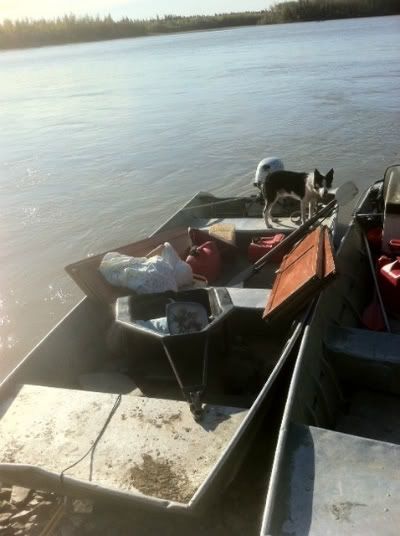 The inventory, all taken from the same dumpster: 3 bicycles (not pictured), 1 bike trailer for moose hunting (which T says she paid for, but "foundby wandering around the dumpster asking people"), 4 folding doors (soon to be a desk and shelves), canning lids (new in boxes), 3 sets of sheets, beautiful flower painted tin tray, basket, and ceramic crocks for pickling. Hot damn.
If you want to read more about T's life in her little cabin in the woods (she writes about rewilding, living in the woods, magic, and sex work, among other things), then skip over to Eco Whore and take a look.