dumpster find of the week: and the kitchen grows
Despite frequent trips to The Trash Across the Street, I haven't found much in the way of memorable booty of late. (Though a particularly perfect blue metal pot does come to mind.) So instead I've focused on coaxing plants out of the ground, reading in the sun, and cleaning up the chaos that had sprouted between my walls while was I gazing off into space behind my computer.
Monday, mid cleaning spree, Doktor Karl knocked on the door. She had a peice of furniture for me, she said, if I wanted it. "Oo!" I said. "I'll come take a look."
What she was getting rid of was this pretty wooden cabinet, making room for another during her own spring cleaing and rearranging. "I went through a lot of trouble to get it here," she told me, "so I wanted to make sure that somebody was using it." In my excitment I forgot to ask where it had come from, but she had implied that it was the fruit of one of the estate clear outs where she once worked.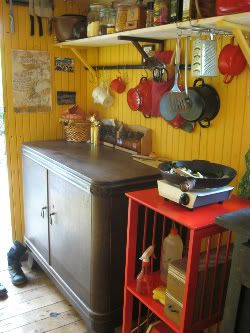 I told her I would take it, and we carried it across the Wagenplatz and into my trailer. "I thought about hauling it over to the trash so that you could find it yourself, get that scavenger adrenaline rush," she joked. But I have to say I prefer the convenience of a direct delivery, fun as a good scavenge can be.
And what perfect timing. When I first moved to Mainz, I was part of a communal kitchen that we lovingly call Hell (here are some photos). Once upon a time Hell was a kids' wagon with a slide leading down from the loft where we now sleep our guests into the main room. And, though I have a hard time believing it, one of the walls appears to be designed to flip down on hinges into a little deck.
But these days Hell is a cold, drafty place. A place where the vegetables freeze in their drawer in winter, and only several hours of roaring fire can even begin to take the chill out of the air. The beams are rotting, and despite a bit of re-siding and re-insulation last summer, it's impossible to keep warm once the summer has waned. Yes, it has happened. Hell has frozen over.
This winter I evacuated to the tiny kitchen in my own wagon, and found myself starting to enjoy cooking again. It is very important to me to be surrounded by beautiful things and to have a kitchen arranged to make my life as easy as possible and my miniscule kitchen was just that. So now the Beard and I are contemplating giving up on hell and turning my wagon into a full-fledged kitchen, and his living wagon into a full-fledged bedroom. Which means there will be some flea market shopping in my future (attention dumpster gods and gods of the flea market, I need a gas-stove that has hook ups for bottle gas), some building, and some new rennovation-story blogging.
This post was a part of 2nd Time Around Tuesday at A Picture is Worth a Thousand Words.