dumpster find of the week: a carboy, score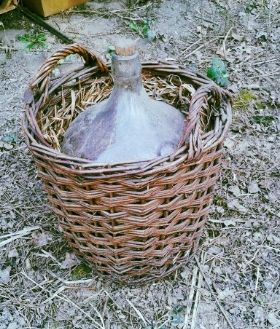 For years I have been flirting with the idea of buying a large glass carboy at the flea market.  Wine making!  Wouldn't that be a good skill to have?  But like so many ideas, so many items once hastily scribbled on a to-do list, I hadn't gotten around to it.  And damn are those bottles expensive.
I happened upon this among a large pile of trash as I walked home from the train station, and I did a little mental cartwheel when I saw it.  Getting it home while also carrying a baby and a backpack was difficult.  I reminded myself of the desk I carried 2 km and the mattress I'd schlepped for blocks balanced on my head.  This was easy! I am hulk!  RAR!  Many arm switches and short breaks later I'd gotten it home.  Sweet sweet trash.  Thanks for that one.
In other scavenging news
I've had my attention drawn to a new dumpster diving blog called Things I Find in the Garbage.  Here is somebody walking and biking around Montreal, picking through trash, and documenting it with words and pictures.  A body after my own heart.  Enjoy!