dumpster find of the week
I've run out of dumpster find of the week posts. Sure, there are still plenty of odds and ends around the trailer that are from the trash that I have yet to share on dumpster find of the week, but really, I want to hear from you. Are you dumpster diving? Are you hauling home your neighbor's curbside furniture discards? Did you just eat that slice of pizza somebody left untouched on that restaurant table?! If you did it I want to hear about it. Send me your pictures and your stories! Share the joy of your prize trash picks with the world! Help fight trash picking taboos and stereotypes everywhere! Revel in your own cleverness! My e-mail address is nicolettekyle [at] yahoo [dot] com, and I'll be sitting at my desk drumming my fingers impatiently against the plastic laptop case until I hear from you.
This week, out of sheer desperation for a dumpster find of the week post, I though we could play "I spy." But this time the game will go like this: "I spy with my little eye, something from the dumpster." I will, of course, supply the answers just after the picture, so if you actually feel like taking a guess, then don't scroll down too far.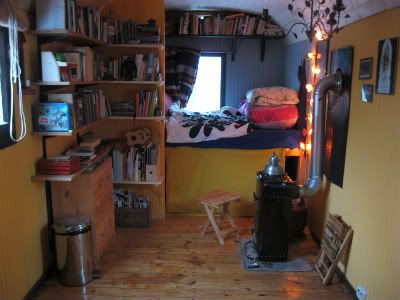 So. Ehem. Items in this picture found in the trash from right to left:
1. The fold up stool leaning in front of the wood stove (as well as the one sitting in front of it).
2. The picture frames on the wall.
3. The metal sheet on which the stove is standing.
4. The basket behind the stove holding my kindling.
5. The string of lights hanging on the wall.
6. All the pillows, blankets, and duvet covers you can see.
7. The yellow curtain that the monster under the bed uses to maintain his privacy.
8. The ukulele.
9. A bunch of tiny stuff on all the shelves way too small to see, such as creepy old plastic toys, bottles, magazine holders, and an assortment of books.
10. The chest of drawers beneath the shelves.
11. The trash can.
12. The trailer itself.
Hip hip hooray. Now send me your pictures already. 🙂