dumpster find of the week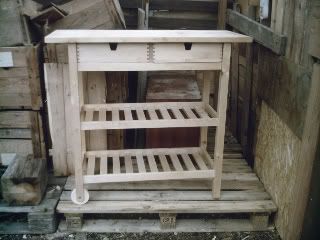 Oo la la.
Also took home: a red leather suitcase, black high top Converse that fit the Beard, black skinny leg jeans, a sweater, and two down blanket covers with matching pillowcases.
The trash coffers are full and overflowing in that way they only do at the end of the month before a bunch of people move out. The food dumpsters had little to offer last night, but tonight they will overflow again with the refuse of the weekend.
This just in (the trash)
Right after writing this and scheduling it to post automatically, I discovered another motherload in the uni big trash depo. The main dumpster there is enormous–maybe about three meters high, two plus some wide, and six or seven meters long. I was standing in it pulling out sheets and plates when a duder showed up to throw in some boxes.
We danced around each other a bit so he could put them in the back of the container where they wouldn't be in my way, and on his way out of the dumpster stopped to look at what I was rumaging through. "Who the hell would throw something like that away?" I was holding a stack of pretty white and blue plates in my hands, and standing almost knee-deep in piles of other ceramic and glassware wrapped neatly in newspaper. "People are fucking nuts."
"Can't disagree with you there." We collectively shook our heads, and he left. I packed up a bicycle trailer with flat tires that I've been eye-ing in their trash for a while, and pulled it home to glory.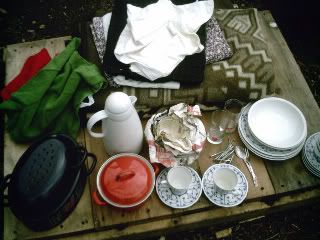 Contents: Two thick blankets (I gave them to a dog owner to use as bedding as they are incredibly ugly); three down blanket covers, one with a matching pillowcase; a roast pan; a sauce pan; four glass bowls; two tea cups with saucers, four soup bowls with saucers; a very small fork and a very small spoon; two towels; three plates, two ceramic bowls; two glasses; and an insulated pitcher/thermos for keeping hot drinks hot.