dumpster diver ticketed in pennsylvania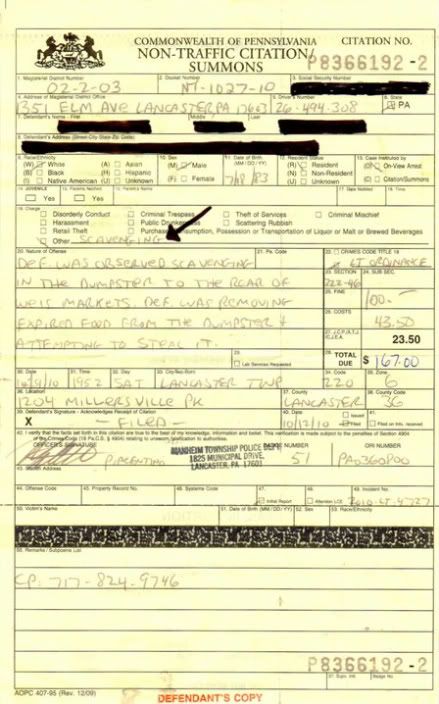 Well, well, well. Another dumpster diver ticketed by the police. The charge? Scavenging. According to the police officer: "Def was observed scavenging in the dumpster to the rear of Weiss Markets. Def. was removing expired food from the dumpster and attempting to steal it." I guess those expired food items will finally get the chance to rot in the landfill with their brethren that they deserve, thanks to another diligent officer. God bless America. Cough.
For all potential Lancaster dumpster divers out there, the song of your demise goes something like this: "§ 258-31.1 Scavenging prohibited. It shall be unlawful for any person, except the owner or tenant of a property or the employee of a licensed hauler (as defined in Article IV of this chapter), to remove any garbage, refuse, rubbish or any other solid waste or recyclable materials placed for curbside collection." (As reported on the Dive! spacebook page.)
But! The story has a happy ending after all. According to the person who notified freegan.info (on whose e-mail list I read about it this morning) in court the charge was dismissed for the lunacy it was: "When the police officer began to speak, the judge interrupted him and said that the charge didn't apply. The 'scavenging' law is for those who make money on others' recyclables. And just like that, the Judge declared him innocent. So it worked out really well."
I wouldn't make a habit of depending on the law, but at least in one case it was on our side.
Other stories of dumpster (out)laws:
Dumpster Diver Arrested in Belgium