diy project: baby shelves and the fold-down changing table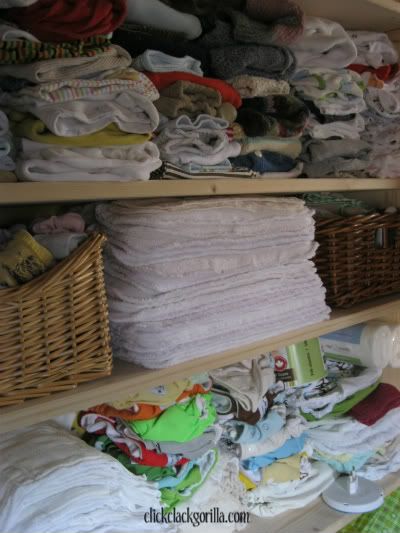 I've done it, I've finally done it! Someone took a trip to the building supply store, brought me back some screws and some wood, and I built the baby-crapola storage shelf and fold-down changing table. Except I (cough cough) haven't added the fold-down table bit yet. But who cares! All the baby crap is finally neatly in place, and now when she shows up we won't be digging through huge piles on the floor! Just that thought alone makes me feel very calm. Plus now I can almost see the bed in my Wagen. Almost.
I kept the design for this shelf simple. For one because I'm not that good at building complex things and for two because moving a lot isn't really my strong point right now. The materials were purchased new and as the nicely finished shelf boards I wanted to use to save time are kind of expensive, cost about 45 euros total, including boards, cheater wooden angle brackets, screws, and hinges for the fold down bit that isn't attached just yet. It took a couple of hours to build, but would have been much faster had I been able bodied. Take a look:
Before:

How would a real carpenter attach a shelving block like this (scroll down to see the end product) to the wall? I had no frickin' clue. So I put the top and bottom shelf on some L brackets…

…and screwed the middle shelves into the unit from the sides after adding the rest of the frame.

And that was it. Ta-da: the finished product. Behold!

While I'm at it, a very poor mousepad drawing of what the fold down changing table bit will look like, to be attached to the bottom shelf with hinges and supported with two lengths of tiny-linked chain attached to the wall.

To those of you who sent us some of the diapers on that bottom shelf: wohoo! I thought you should know that I still think you're really awesome for helping us out with that. Crazily, we've ended up with more baby crap than we can possibly handle or use (gift clothing started coming in long after I had finished all my flea market über-preparedness shopping, unfortunately). So anything that doesn't fit on the shelf is going into the flea market pile right now. Clutter makes me nuts, particularly living in such a small space. And how many fuzzy little sleepers that say "my cute friend" (barf) on them does one Peanut need? I may not know for sure, but I'm fairly certain the answer is not 25.