cloth diaper diary: testing the babykicks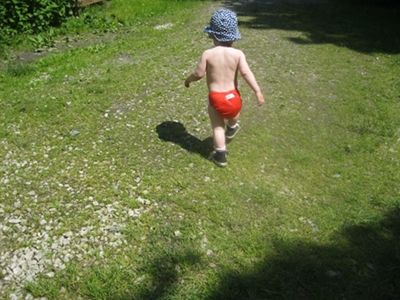 Once upon a beautiful, warm May day… The only beautiful, warm May day.  I had been looking forward to more baby-runs-around-in-just-her-mega-cute-diapers-and-a-hat-outside days this spring.  Instead it rains and rains, is cold and colder, and we still have to light the damn wood stove.  But you take what you can get.
We've gotten rain, and we've gotten new diapers.  Namely, the BabyKicks Basic Pocket Diaper
and the BabyKicks Premium Pocket Diaper
.  It is a testament to the cuteness of the damn things that I can still get excited over what amounts to a little cloth envelope for poop and pee.
I've said it before and I'll say it again: BabyKicks diapers are pretty sweet.  The main reason for this is the materials.  Most are organic, and all of them are really really fluffy and soft, made of the kind of fabric you feel compelled to rub against your cheek when you see it, that makes you think of clouds and cotton candy and being wrapped in a thousand soft fleece blankets after a warm bath.
Two Basic Pocket Diapers
arrived at once.  Bright red!  Bright yellow!
(And on a side note, don't the baby Converse just kill you?! The tyranny of the small…)
At first, in my hand, this diaper felt a little flimsy.  But what did I expect?  I started my adventures in BabyKicks by testing their "premium" products.  So of course the basic diaper is going to feel…basic.  But in practice, they're great.  They don't have the fleece "air gusset" around the leg that the premium pocket diaper features, but that means that there is also no non-water-proof bit to soak in pee and leak it onto Pickles' pants.  (What the leg gusset gives in comfort and breath-ability, it takes in increased leaks.  It is a great diaper for healing up diaper rash, running around pant-less, and "I will have time to change this again in 1-2 hours instead of 4-6" situations.)
So what is the difference between the BabyKicks Premium Pocket Diaper and the Basic?  ONE Premiums come with a hemp insert.  Basics come with a poly hemp blend insert.  Both are lovely.  TWO Basics lack the air gusset on the leg.  This is both a pro and a con, as I described above. THREE Premiums come with an ultra-soft, quick-drying over-sert so that only the softest, driest bit is ever touching baby's skin.  This is an awesome idea, but as we use throw-away inserts in our diapers to catch the poop (these things
), they aren't very useful for us.  With a price difference of $5.51 I would recommend going for the basic for the bulk of your collection, with 3-6 of the organic fitted diapers
thrown in for nighttime use and as many of the Joey-Bunz hemp inserts
as you can afford to buy.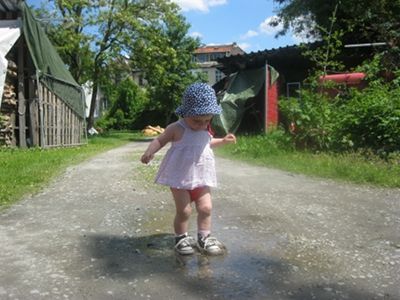 So far, BabyKicks have given me none of the problems I've had with FuzziBunz (leaking, leaking, and more leaking. oh yeah, and lots of broken snaps). After I took this picture Pickles sat in that puddle, and the inside of the diaper was still dry. How's that for waterproof?
If you need some cloth diapers for your babe and want to support Click Clack Gorilla at the same time, then buy your diapers through the affiliate links throughout this post.  Also: BabyKicks trades me free diapers in exchange for my reviews, but they do not tell me what to say.  These are my honest to cod opinions, scout's honor.