cloth diaper diary: eleven months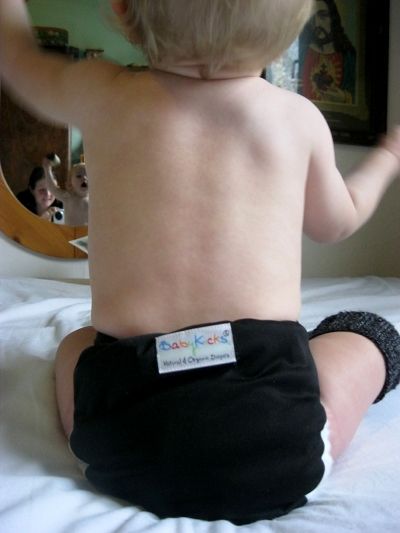 Finally. A black diaper. I had put them on the registry, but they were sold out. Most companies don't even offer a black option.  Too metal?  Too goth?  Too morbid?  Apparently.  A lot of people have an aversion to putting babies in black.  But me, I like black.  It matches everything, and it doesn't show stains.  I for one think that black-shod booty up there is absolutely adorable.
The diaper in the picture is our latest, ehem, booty from BabyKicks.  It is their Premium Pocket Diaper, with a velcro closure, and I was so relieved when it came in the mail.  Baby Pickles is going through a squirmy stage, and she won't stay still for long enough to get a diaper on her lying down.  That means all her diapers need to be snuck on while she's standing.  Prefolds are completely out of the picture.  Snap closures are good, but you have to be fast.  Velcro is the perfect solution for the squirms.  The downside is that Pickles can take off a velcro diaper herself when I'm not looking and pee all over the carpet, but as long as I remember to snap her onie closed at the crotch, it's all good.
Though the FuzziBunz diapers are growing on me, now that the squirms have made them the most viable diapers in our collection, the diaper pictured above has become my favorite very quickly.  Besides loving the color and the velcro closure, it came with a hemp insert (have I raved enough about hemp inserts?  they are cloth miracles.  MIRACLES).  One hundred points for BabyKicks.  And another hundred points for the fact that they make all of their diapers with natural fibers.  This one has a Bamboo Velour lining.  It is the kind of thing you just want to rub all over your face.  When we first got it we may or may not have all wore it briefly on our heads.  Ehem.
This diaper in particular has one feature that I am still iffy about: the fleece leg gusset.  So instead of waterproof fabric along Pickles' leg, there is breathable fleece.  This is lovely in theory, and, I imagine, very comfortable.  I bet it's particularly good for babes who get diaper rash a lot.  Once the diaper is full, however, the wet starts to soak through the fleece.  But seeing as most diapers start to leak at the leg when they are totally full, it doesn't phase me much.  I'd gladly trade a little extra comfort and air for a reason to remember to change her diaper before its full to flooding.
What totally amazed me, and made me a little sad that I didn't discover BabyKicks products until well into Pickles' life, is that you can fold these diapers over and BAM they suddenly fit newborns.  I haven't been able to try it myself, but I mean, shit, how smart right?  (If you have no idea what I mean, watch the video below.  I didn't understand at first either.)  One of the main issues I have with FuzziBunz One Sizers is that they simply didn't fit right for ages and ages (too big, mad leaky).  But this option makes the BabyKicks Pocket Diapers feel like they are truly one-size-for-life.
As for the rest of our cloth diaper collection, the squirms have really cut a number of favorites out of the running (and less diapers equals doing laundry more often meh). I always liked prefolds, but can only use one when I change Pickles while she is drinking a bottle. (Instead I've been using them as inserts for the other pocket diapers.)  The Kissaluvs
, which also used to be a favorite and which I liked to use to keep things dry at night, no longer stay on.  I have no idea why.  I put them on, and they slip all crazy, and I end up sleeping in a puddle of pee (mothering is glamorous, eh?).  It could be a Snappi
issue.  Maybe.  The GroVias
finally fit well, but they need to be changed more quickly than most of our others.
Some information you should have: The folks at BabyKicks send me diapers I need in exchange for my writing reviews.  The opinions are my own, however.  Most of the links on this post will take you to amazon, where you can look at a picture of what I'm talking about.  If you happen to buy the item through my link, I get a little cut.  Also: if you are in Germany and want to buy BabyKicks or any other cloth diapers, this is the place.  Those people are not paying or trading me anything to say that, but a number of folks have asked about where to get this stuff in Germany.  Most cities have at least one nice hippy mama/papa store too, though they tend toward brands like Popolini and don't have most of the diaper brands I'm always going on about.